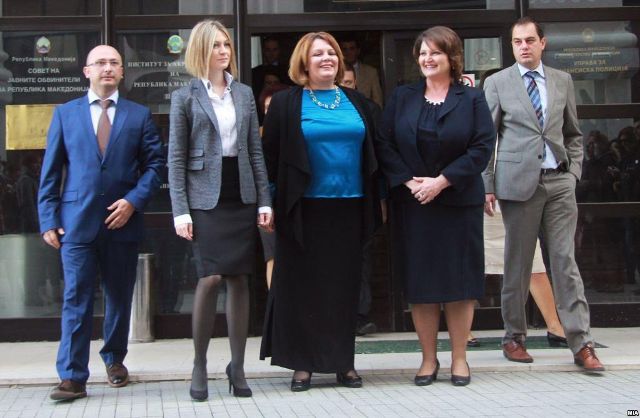 Skopje, 20 October 2016/Independent Balkan News Agency
By Naser Pajaziti
Investigators of the Special Prosecution in FYROM have visited the premises of the Department of Security and Counter-Intelligence to secure the necessary documents in relation to the surveillance carried out from 2008 until 2015, a part of which were made public by opposition leader, Zoran Zaev.
Chief prosecutor of the Special Prosecution, Katica Janeva says that the aim is to secure the necessary information as to who has carried out the surveillance, the Department of Security and Counter-Intelligence or foreign secret services.
"We have a court order which authorizes us to receive from the Department of Security and Counter-Intelligence all the numbers which are suspected of being in the system. The Department is showing of lack of technical and human capacities, but we don't want to judge the motives. It's sad how a state institutions doesn't have the technical and human resources to respond to a court order", said prosecutor Lence Ristovska.
Meanwhile, the head of Public Security, Mitko Cavkov said that no data can be obtained from the computer system of the Department, as this can only be done by the company in charge of the maintenance. "They saw that we could not do this and sent a letter to the operator", Cavkov said.
Deputy Minister of Interior, Oliver Andonov said that the special prosecutors are doing an unprofessional job, which could threaten national security. "Katica Janeva is trying to convince the public opinion that there are people who do not want to collaborate in order to create tension. She was assisted by the general secretary of the largest opposition party, who is a Minister of Interior in charge of organizing the elections", Andonov said.
A month ago, the Special Prosecution published the "Fortress" case, which relates to the disappearance of surveillance equipment, while the suspects in this case are former Minister of Interior, Gordana Jankulovska, former Police Commissioner, Goran Grujevski and other police officials. /balkaneu.com/