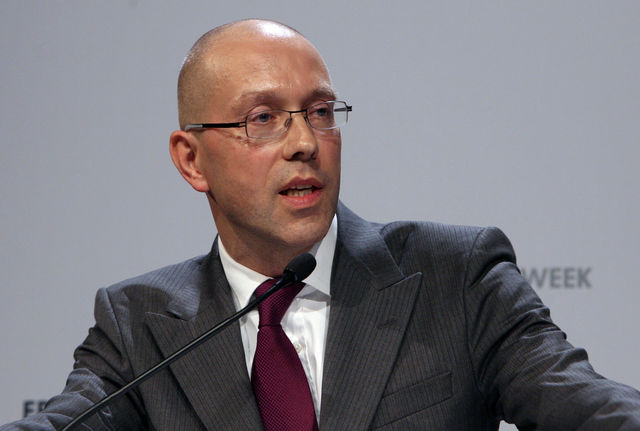 By Christos T. Panagopoulos
Member of the European Central Bank's (ECB) Executive Committee, Jörg Asmussen (photo), will pay a special visit in Athens, where he will be accepted by Greek Prime Minister, Antonis Samaras, at the Maximos Mansion at 16:30 local time, according to daily newspaper "Naftemporiki".
At 15:00 Asmussen will meet with Minister of Finance, Yannis Stournaras, with whom will discuss the Greek debt ease, the financial gap as well as the possibility of taking new measures until 2016.
According to the same source, the meeting's agenda between Stournaras and Asmussen will mainly concern the day after the German elections and especially:
* Ways to ease the public debt, in order to be reduced at a steadier pace, from 176% of GDP, where is bound to arrive in 2013, below 110% in 2024. Estimations say that Asmussen has a better image about the exact time as well as the conditions under which such a discussion will commence.
* Coverage of the financial gap for the period 2014-2015, which already exceeds the amount of 10.9 billion Euros, according to the latest IMF report.
* Possible implementation of new measures, which have been already calculated at the amount of 5.6 billion euros for the period 2015-2016. From his side, Finance Minister, Yannis Stournaras, insists that the need of taking new austerity measures will be minor and reiterates the Greek government's position, that there will be no horizontal cuts against the country's citizens. In spite of this statement, Asmussen has emerged as a staunch defender of "frontloaded" and massive reforms.
* Transformation of the Greek banking system, after the completion of the recapitulation program, which affects the country's banks. The privatization of Eurobank remains high in the agenda between the ECB and the Greek government.
* Political stability and the will of the two governing parties (New Democracy – PASOK) to implement the Memorandum's demands. This matter concerns, not only the International Monetary Fund, but the ECB as well.
Source: Naftemporiki