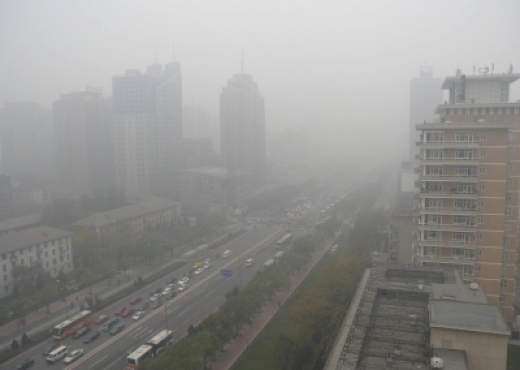 Skopje, December 18, 2013/ Balkan Independent News Agency
During these days, air pollution in some of the main cities of the former Yugoslav Republic of Macedonia has exceeded the permitted limit and European standards. In order to reduce the effects of this pollution as soon as possible, as of today (18.12), authorities in Skopje announced a plan of short term measures.
Thus, until December 21, 2013, all persons aged 60 or more will not be going to work in all state institutions and private enterprises in Skopje, Tetovo, Kercova and Manastir.
Pregnant women too will not go to work.
The spokesman of the government, Muhamet Hoxha declared that other measures will be taken too, especially for people who work in the outdoors. They must avoid spending time in the outdoors from 11 am to 5 pm. On one side, workers are protected and on the other, the intensity of work in construction sites will fall, thus having a positive impact on the quality of air.
"It's also recommended for day care centers, and school students not to hold any activities outdoors until Saturday. This also goes for the state and private sector", said spokesman Hoxha.
The other government spokesman, Aleksandar Georgiev said that in the framework of these measures, transport vehicles are recommended to avoid movements in urban areas. Authorities have issued guidelines for vehicles to circulate in road segments outside cities.
Minister of Environment and Physical Planning, Abdilaqim Ademi said that in the city of Skopje and in the communes of Tetovo, Kercova and Manastir, the movement of transport vehicles is recommended to be forbidden from 7 am to 9 pm.
Pollution that endangers the health of the people
From the start of this month, air pollution in Skopje has been assessed to be over the permitted rate.
This situation has alarmed institutions. They say that they have identified pollution over the permitted rates and a serious presence of poisoning solid particles in the air, known as PM10.
Minister of Environment and Physical Planning, Abdilaqim Ademi said on Wednesday that based on the measurements carried out in the recent days, a high level of pollution in these regions has been noticed from 7.30 am until 11 am and from 5 pm until 9 pm.
In the center of Skopje (photo), concentration of PM 10 is over 180 micro grams per cubic meter. The maximum permitted concentration of PM10 in the air is 50 micro grams per cubic meter. According to doctors, these polluting elements are dangerous for the health of the people.
Measures to raise awareness too
Besides concrete measures which have a limited time, the government has also appealed to local government and non government organizations to offer their assistance.
Spokesman of the government said that the Red Cross, social assistance centers and local government are required to have an active approach in protecting health especially for poor social categories and elderly people.
Ministry of Health said that all health centers are vigilant and have increased the number of staff which will deal with patients that show symptoms of respiratory illnesses or other problems in the respiratory system. /ibna/