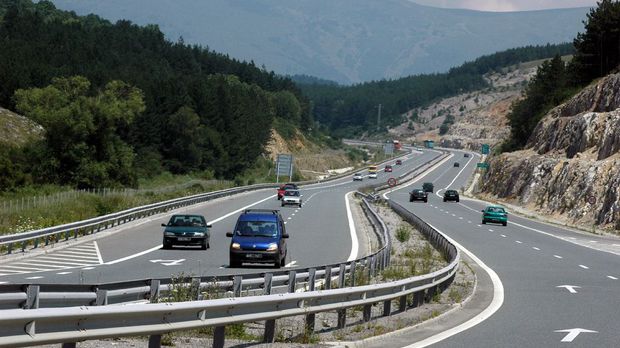 By Clive Leviev-Sawyer of the Sofia Globe
More than half a million people are expected to travel in Bulgaria for the 2014 Easter holidays, with the road to Greece expected to be the busiest while in turn, more than 50 000 Greeks expected to visit Bulgaria.
The year 2014 is one in which the dates for Easter coincide on the Orthodox Christian, Roman Catholic and Protestant calendars. In Bulgaria, it is a four-day weekend, with April 18 and 21 as public holidays.
To assist the movement of holidaymakers' traffic, authorities have ordered that heavy lorries will not be allowed to travel between 4pm and 9pm on April 17 and 18, as well as most of the day on April 21.
Law enforcement and traffic police patrols will be concentrated on the main road to the Greek border, around the Black Sea cities of Varna and Bourgas, the coastal road connecting the two, as well as around Veliko Turnovo.
Police will be out in force around churches while inspectors from firefighting teams have been carrying out fire and safety inspections, especially given the Orthodox Christian tradition involving the passing of lit candles.
In Plovdiv, the office of the Orthodox Metropolitan has posted a notice about when the "Holy Fire" is expected to arrive by aircraft from Jerusalem.
Police also warned those who would be gathering around churches for the ritual of passing out the flame to be aware of pickpockets. Similarly, police warned people visiting shopping malls to be careful, noting that pickpockets sought to not raise suspicions by blending in by being well-dressed and well-groomed.
Mladen Marinov, deputy head of Sofia's criminal investigation department, said people should be careful about where they kept their money and documents. "When you feel a pulling or a pushing, react immediately and check what's going on," Marinov said.
Authorities also appealed to people going away for the Easter weekend not to announce this on social networks, so as not to alert potential burglars that their homes could be easy pickings.
Konstantin Dimitrov, deputy head of the national police directorate-general, said that criminals went online to check whether homes would be empty, correlating information about people that they had shared on the internet.
Dimitrov said that there was a trend for would-be burglars to pose as people offering small repairs. He also urged people not to leave money and valuables at home but to store them securely.
Sofia police said that from April 18, there would be more police patrols on the capital city's streets, not just in the centre but also in all residential districts.
Meanwhile, bus and train stations were expected to see the customary brisk trade at Easter and last-minute efforts to get tickets run the risks of coming to naught.
Bulgarian state railways BDZ said that it was providing additional railway coaches on about 139 trains travelling the main rail routes in the country. BDZ said that it was adding the equivalent of about 14 000 extra seats over the April 18 to 21 long weekend.