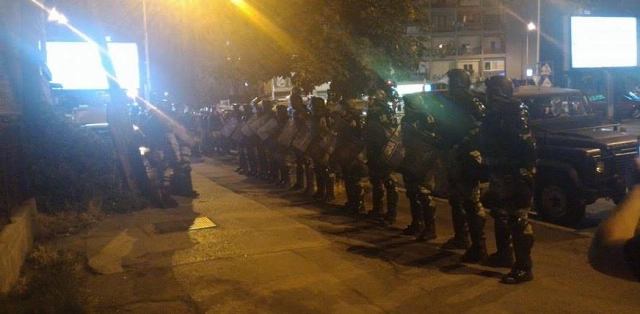 Skopje, 1 July 2016/Independent Balkan News Agency
By Naser Pajaziti
Special police forces have intervened last night in the Student Parliament headquarters of the Public University "St. Cyril and Methodius" in Skopje, removing all students who had been organized in an informal group called "Student Plenum".
These students demand free and fair elections for the head of the Student Parliament, a body which represents students of the largest university in the country. The elections for the head of students were associated by many irregularities and technical problems yesterday. They were reported by the Student Plenum. According to them, a group of students, which was later discovered that they weren't students, entered the Law Faculty and took the ballot boxes. The tense situation has continued during the night, when students of the Student Plenum entered the headquarters to follow the process of the counting of ballot boxes. But police intervened during the night by removing them.
Student Ismet Sabanovic from the Student Plenum says that it is insane that special forces have intervened in a student election process. "I am one of the students who are fighting for justice and to prevent illegitimate elections. For 12 hours we fought against a system of illegitimate elections. The culminating point was the intervention of the special unit, which dragged us out", said Sabanovic.
Vaska Bojaxhi, defense lawyer acting on behalf of the rights of students said that students must denounce any irregularity. "If you think that the right of vote has been violated, you can submit your complaints", said Bojaxhi, offering no other comments on the irregularities denounced by the Student Plenum. In the race for the head of the Student Parliament there are two candidates, Stefan Vasilevski and Davor Popovski. /balkaneu.com/