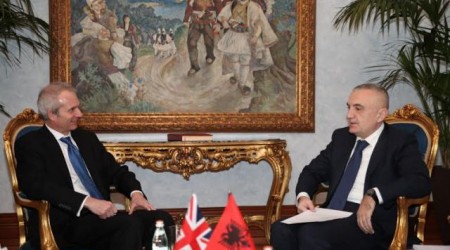 Tirana, February 5, 2014/Balkan Independent News Agency
Speaker of parliament, Ilir Meta received in a meeting today the British Minister of State for Europe, David Lidington.
During this meeting, Meta praised the relations between the two countries and noted that Great Britain represents a very important partner for the future of Albania and our region.
The speaker of parliament also expressed the engagement of the majority in power to advance with the decisive reforms needed by the country and the citizens, such as the territorial administrative reform, reform in the justice system and economic and social reforms.
On his part, Lidington expressed the engagement of the British government for the European perspective of Albania and underlined that the strengthening of the rule of law and reform in justice will be crucial in this aspect.
Lidington pointed out that United Kingdom remains committed toward Albania and the region and in this context, it's ready to extend its support in order for crucial reforms in Albania to advance.
During this meeting, the two interlocutors noted that strengthening of political dialogue and comprehensiveness are very important for the reforms. /ibna/