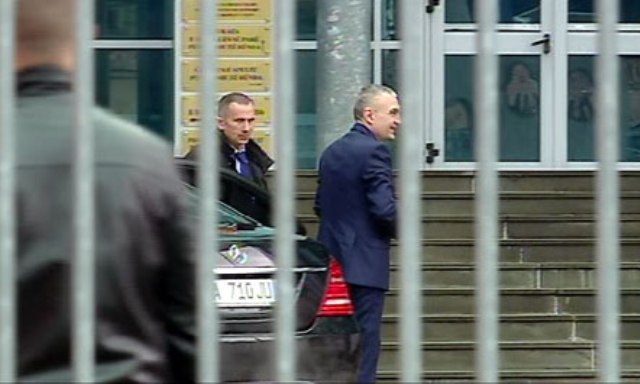 Tirana, March 6, 2015/Independent Balkan News Agency
For the first time in Albania, speaker of Parliament and the Prime Minister have been interrogated for several hours by the Prosecution of Serious Crimes. The Interior Minister, Saimir Tahiri was also interrogated for several hours.
Meanwhile, former PM Sali Berisha, who was also subpoenaed by the prosecution, didn't show up.
These developments come a few days after the prosecution officially launched an inquest following the denouncement of the majority MP, Tom Doshi, according to whom, a murder attempt was masterminded against him. Doshi said that the murder was ordered and paid for by the speaker of Parliament, Ilir Meta. According to the MP, who has been expelled from the Socialist Party, the Minister of Interior had met with the hit man and the Prime Minister had knowledge of this affair.
Doshi's claims are considered as untrue by the sides involved in this affair.
After leaving the prosecution of Serious Crimes, the Speaker of Parliament, Ilir Meta said: "I have testified after I was called by the Prosecution of Serious Crimes yesterday and at the same time, I answered to questions asked by prosecutors of this case, in regards to the accusations and claims of Mr. Doshi and Mr. Berisha for the alleged murder attempt of two MPs".
Meta said that the video that Doshi published, where a repented murder confessed his murder plan, could not be considered as a serious proof by the prosecution. "However, I'm here to respect the rule of law and say everything that I know and also to undergo this investigation in a transparent way".
PM Rama also spoke after testifying at the Court of Serious Crimes: "Only if there's a full investigation and if the responsible people are brought before justice, can provide relief for the public and politics. I believe that all of this disgrace can turn into a good thing for the public and politics, if the prosecution does its job and holds accountable the responsible people. This ugly story cannot end like a movie and the political life of Albanians cannot go on like this, from one film to another", Mr. Rama said. /ibna/