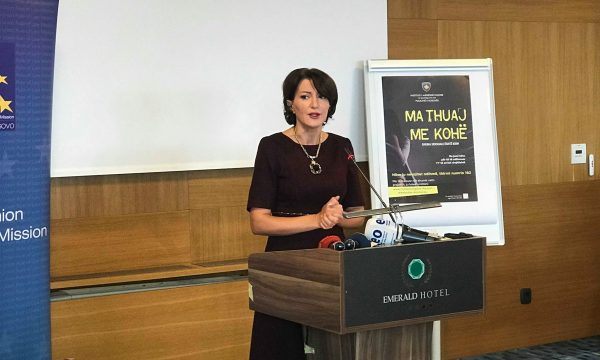 In Kosovo, forensic experts said that 59 percent of rape victims are between 11 and 16 years old, but the victims of this crime are younger.
The allegations came in the wake of the campaign on biological evidence preservation in sexual violence cases, supported by the Institute of Forensic Medicine, Kosovo Police and Eulex.
The campaign is aimed at raising awareness of possible situations that expose vulnerable categories to the risk of being a sexual violence victim.
Tarja Formisto from EULEX who is Deputy Director of the Institute of Forensic Medicine, said that efforts should be made to raise awareness of each citizen on preventing sexual violence.
"This means also launch of the campaign which has been helped by the Institute of Forensic Medicine (IFM) and the EULEX. I have two messages for you: First, time has come to invest in new people, and second, now is time to raise public awareness on what the sexual violence acts is and how to react and report on events involving victims of sexual violence," she said.
Former Kosovo president, Atifete Jahjaga, who advocates for the rights of the victims of sexual violence said that all should unite and bring hope to victims of this crime.
"We are uniting to give hope and support survivors of sexual violence, but I regret not hearing the voice of sexual violence victims which is necessary to be heard. Twenty years after the war in Kosovo war rape victims should speak openly," Jahjaga said.
Arsim Gerxhaliu, Director of the Institute of Forensic Medicine said that victims should come forward and report sexual violence crimes because biological evidence cannot last forever. He said the most endangered from sexual violence assaults are children aged 11-16. "Raising awareness among this group of people is important," he said./ibna