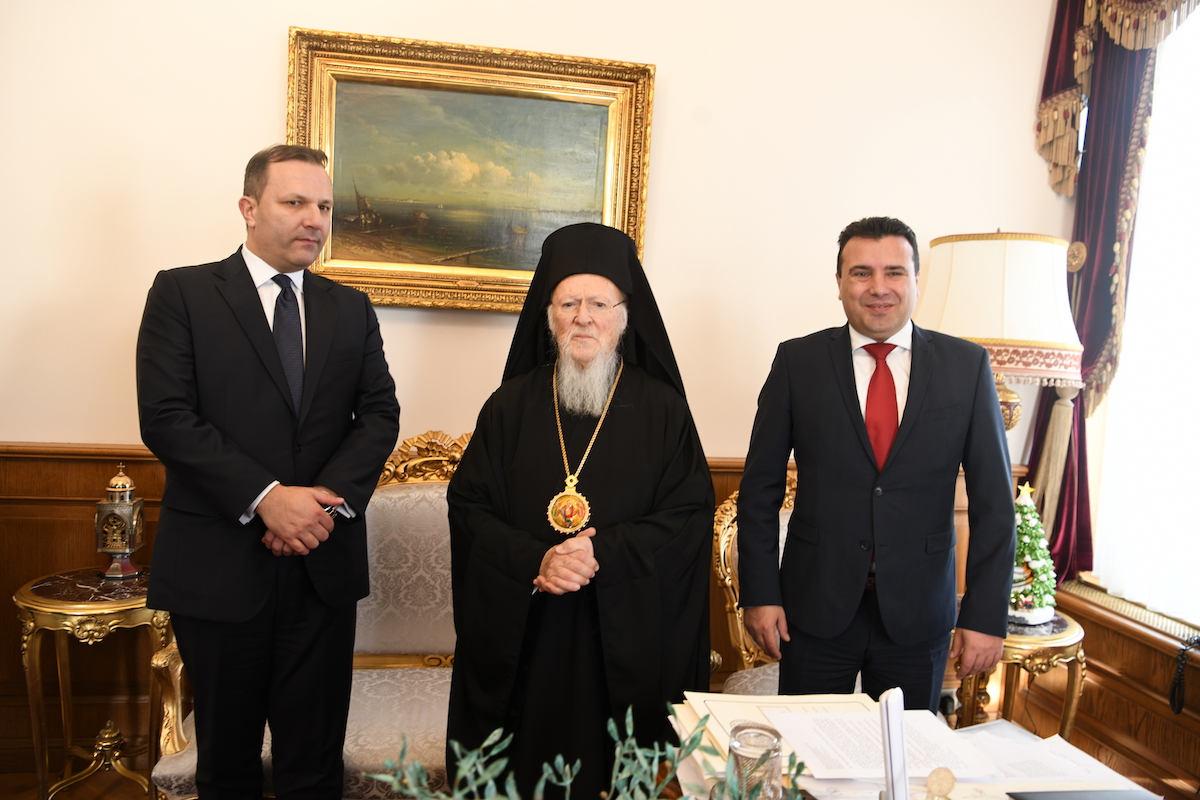 The Prime Minister of North Macedonia's caretaker government Oliver Spasovski visited today in Istanbul Archbishop Bartholomew, accompanied by the former Prime Minister Zoran Zaev.
According to the announcement issued by the the Ecumenical Patriarchate, the purpose of the visit was to look into the ecclesiastical problem of North Macedonia and discuss both the moves that have been made to date as well as the willingness to restore regularity in the Church of North Macedonia under the name of Archbishopric of Ohrid.
The Patriarchate's full announcement:
Communication by the Ecumenical Patriarchate
Today, January 13, 2020, His Holiness Ecumenical Patriarch Bartholomew, accepted upon his request his Excellency Mr. Oliver Spasovski, Prime Minister of the Republic of North Macedonia, accompanied by his predecessor, his Excellency Mr. Zoran Zaev and his colleagues Mr. Dane Talevski and Mr. Dejan Sotirovski.
The purpose of the meeting was to consider the country's ecclesiastical problem. During the discussion the previous stages of the problem were tabled for discussion, in which lies the willingness for the reinstatement of regularity in thither Church under the name of Archbishopric of Ohrid, following the appeal in due time to the Mother Church.
Upon that, it was decided to invite the delegation of the Serbian Church and of the Church in thy country to the Holy See of the Ecumenical Patriarchate for consultation, and in an effort for a solution mutually agreed upon to be reached.
The atmosphere between the interlocutors was warm and sincere; afterwards their Excellencies were seated at the Patriarchal Bank, and then they departed to retire to their residencies.
The Prime Minister and his colleagues have expressed their respect for and confidence in the Mother Church, of which they received the blessing for the country's clergy and people in wholesome.
Alongside the Ecumenical Patriarch during the discussion were found Monsignor Archbishop of France Mr. Emmanuel; of Silibria Mr. Maximos; of Adrianople Mr. Amfilochios; Reverend Archimandrite Mr. Joachim and Diaconus Gregory, chaplain and deputy chaplain of the Holy and Last Synod respectively, as well as the Honorable Mr. Konstantinos Delikostandis, Principal Teacher and Director of the First Patriarchal Office.
On behalf of the chancellery
of the Holy and Last Synod /ibna