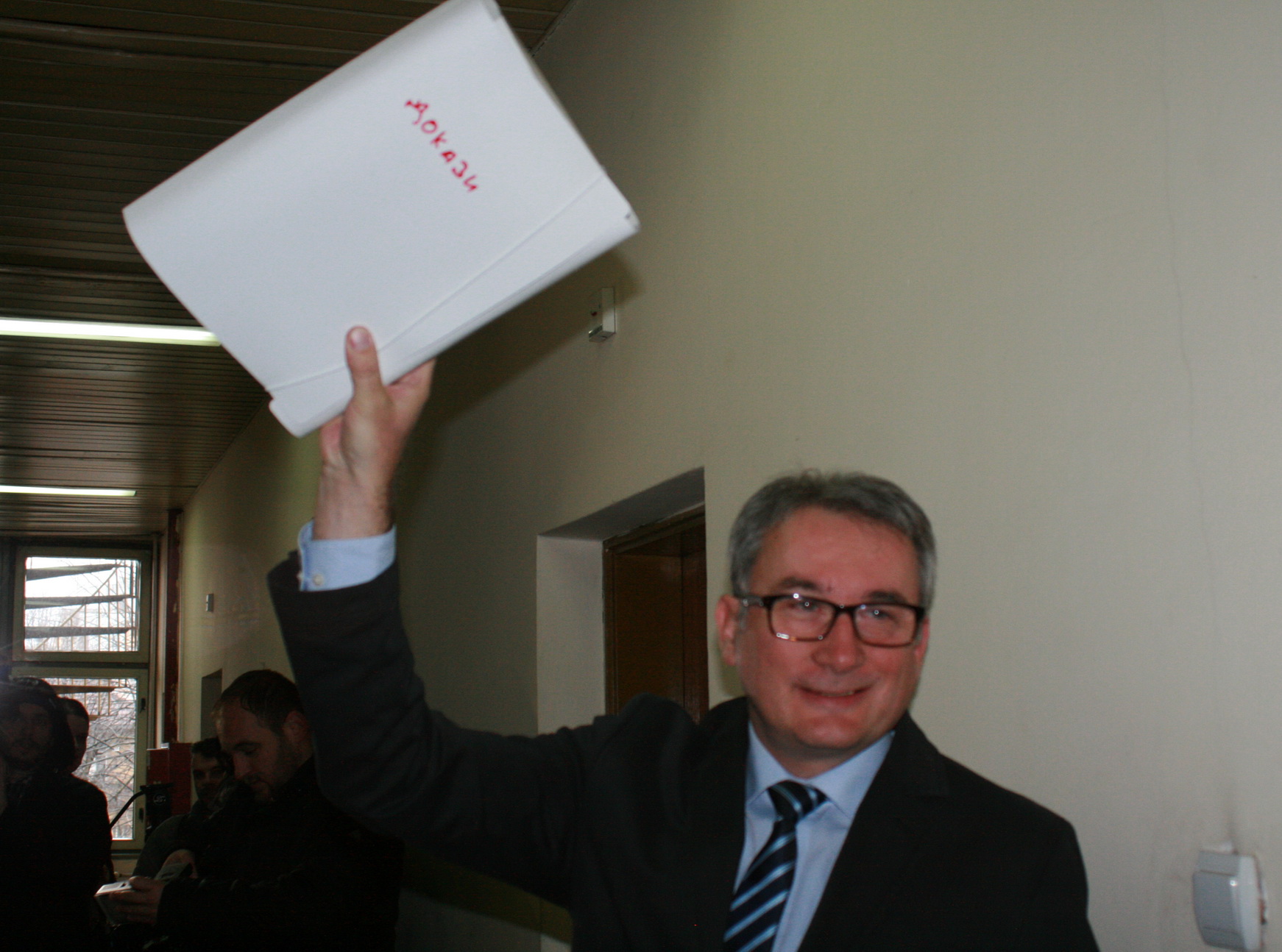 Banja Luka, April 8, 2015/ Independent Balkan News Agency
By Mladen Dragojlovic
RS ruling coalition, leaded by Alliance of independent social democrats and its leader Milorad Dodik, and opposition parties of Alliance for changes (SDS, PDP and NDP) since the October election last year are in stage of latent war, but more and more sparks in the last several days show that relations among Serb parties are far from constructive.
Perhaps the best example of this is Dodik's lawsuit against Mladen Bosic, leader of Serb democratic party, for defamation, and the trial that begun Wednesday. The long awaited "courtroom meeting" between Dodik and Bosic did not take place because the former didn't came on the trial. Bosic was there with a folder of evidence (photo).
After the first hearing on the court, Bosic told the media that he submitted a large number of documents on Dodik's crimes and illegal operations. Bosic claimed that his political opponent made a fortune through illegal trade with oil during the war in BiH.
"I will prove that, during the war, Dodik purchased oil and later sold it at a price 300 time higher than the purchase price. He is a war profiteer and our public must know that", Bosic said.
He added that the matter of biggest concern is the fact that his team of lawyers demanded certain documents from RS institutions, but they refused to give them. As Bosic said, these documents are not secret and all citizens should have chance to see them, but institutions are loyal to Dodik.
"Despite the fact that Dodik sued me for defamation because of my statement that he stole millions of euros, I still claim that and, if the court does its job in an unbiased manner, I will prove that", Bosic stressed.
Alliance of independent social democrats (SNSD) leader and RS President, Milorad Dodik, reacted on this statement in just half of hour, so the media had to run from one press conference to the other. He sued Bosic for the statement about stolen millions and demand an indemnity of 5,000 Euro.
"Bosic is making media spectacle without any evidence and arguments. All his documents were rejected on the court earlier and, on the end of this process, he must face his lies. What he did today with the media at the courthouse is just a propaganda", Dodik told the media.
Dodik added that his lawyer was at the court but he doesn't have any intentions of coming in himself. As he said, he doesn't have any intention of commenting on Bosic's "false accusation".
This case, the dispute about the coordination mechanism in BiH institutions, and many other cases where SNSD and opposition parties are in  conflict, analysts see as a distraction of public attention from the main problems. Since there is no agreement among the main political actors in RS, citizens can expect more of the same in the future.