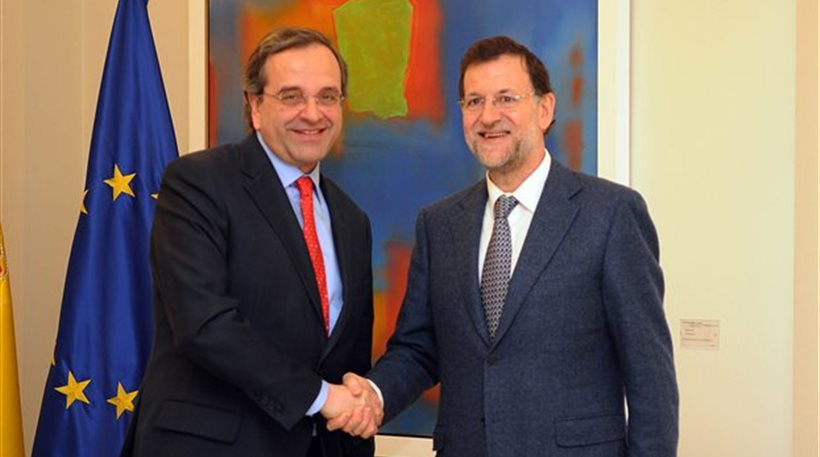 Athens, January 15, 2015/ Independent Balkan News Agency
By Lefteris Yallouros
Spanish Prime Minister Mariano Rajoy made a one-day visit to Athens Wednesday for talks with Greek counterpart Antonis Samaras. The Spanish PM expressed support for Samaras in what was seen as a move to help his conservative counterpart win a crucial election battle in ten days.
Conservative New Democracy trails main opposition SYRIZA – the left-wing anti-bailout party – in polls by as much as 3.5%, according to a latest poll by Alco published Thursday. Rajoy's conservatives in Spain also face an election battle later this year in which they will be challenged by anti-austerity party Podemos – whose rhetoric is very similar to that of SYRIZA.
The need for reforms to continue in order to avoid instability was the main message both Rajoy and Samaras sent home.
In statements to the press, Rajoy said Samaras is a true leader that has put Greece on track to exit the economic crisis. The Spanish PM also attacked SYRIZA by saying that promising "things that are impossible makes no sense and generates an enormous amount of frustration," while terming economic reforms "tough" but unavoidable.
Furthermore, Rajoy and Samaras agreed in their joint press conference that agreed-to measures cannot simply change with every new government while pointing out that the euro must be defended by all member-states.
Antonis Samaras thanked the Spanish people for their support during such a difficult time for Greece and said the EUR 26 billion borrowed will be returned to Spain.
"Greece and Spain were hit by a major crisis, the two countries made difficult and painful reforms which were necessary to build steady economies. The reforms are bearing fruit, the two countries have the largest growth index. Greece already has a primary surplus and in Spain we see that we too will develop. If we continue on the same, positive road, we will further grow our economies" Samaras said.
Rajoy's visit to Athens is seen as a bold move as an election win for SYRIZA will almost certainly boost Podemos ahead of the Spanish vote in November. However, should New Democracy win, Rajoy will have boosted his influence in Europe as well as that of the conservatives as real reformists that have successfully tackled the economic crisis.
Meanwhile, Rajoy was not alone in throwing his support behind the premier and New Democracy on Wednesday as former Greek PM Costas Karamanlis made a rare statement too in which he maintained that "the country needs political stability and deep reforms more than ever before; a government with a clear European direction that is firmly focused on the national target of growth".