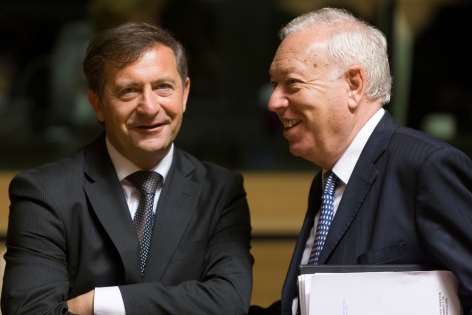 Review Hari Stefanatos
The Spanish Foreign Minister, Jose Manuel Garcia-Margallo, will have a two day visit to Slovenia starting today, during which time he will meet with his Slovenian counterpart Karl Erjavecin in Brdo pri Kranju on Monday to discuss issues concerning international and EU issues, according to a press release by the slovenian foreign ministry.
Garcia-Margallo is also scheduled to meet with Prime Minister Alenka Bratušek and Parliamentary Speaker Janko Veber on Tuesday.
The Spanish Foreign Minister on Tuesday will also attend a conference of Spanish and Slovenian business representatives at the Chamber of Commerce and Industry, while before that he is scheduled to make the opening speech of the third regional seminar on mediation in the Mediterranean.
The relations between the two countries have not been very intense of late in terms of cooperation, despite the fact that they are both experiencing similar economic problems. Trade between Slovenia and Spain has dropped slightly over the last few years amounting to €610mln, of which Slovenian exports accounted for €211mln.
(Source Sloveniatimes)