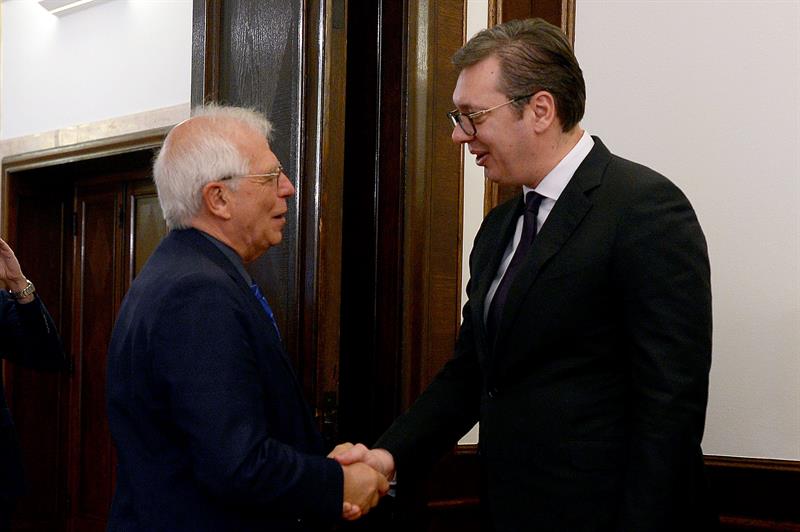 Spain remains opposed to the unilaterally declared independence of Kosovo, but its supports efforts of Belgrade and Pristina to reach a compromising solution over the Serbian province, said foreign minister Josep Borell.
Borell visited Serbia on Wednesday and met with president Aleksandar Vucic, prime minister Ana Brnabic and foreign minister Ivica Dacic.
According to the Presidency's press release, Vucic thanked Borell for Spain's "principled position on Kosovo's independence and active support in protecting the vital state and national interests of Serbia".
Serbia behaves "responsible, as well as reasonable and abstained at the same time", Vucic told Borell, according to the statement. The president recalled that Serbia has not reacted reciprocally to the taxes that Pristina has imposed on Serbian goods.
At the press conference with Dacic, Borell underlined that the "cases" of Kosovo and Catalonia cannot be compared, "because the two situations are not connected".
"Such comparisons have no grounds, although the supporters of Catalonia's independence like them", Borell told reporters.
Dacic said that the representatives of "Catalans separatists" have opened their offices in Zagreb, promising that such a thing will not happen in "Belgrade and Serbia".
Borell suggested to Dacic that Serbia could open a consulate or honorary consulate in Barcelona. "It is good to have institutions which help improve bilateral relations", the Spanish minister explained.
Borell also met with Prime Minister, Ana Brnabic, with whom they discussed bilateral cooperation and "intensifying economic relations". The two have agreed that links between Spain and Serbia are good and could be improved in terms of bigger trade exchange and new Spanish investments in Serbia.
The introduction of direct flights from Belgrade to Madrid and Barcelona and vice versa could be an impetus for faster development of bilateral economic relations, Ana Brnabic said./ibna
Photo: Aleksandar Vucic and Josep Borell (Tanjug)