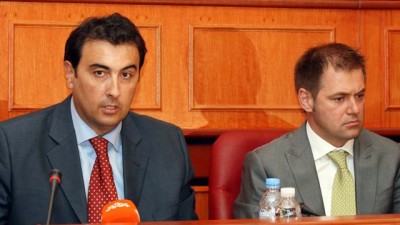 Tirana, May 3, 2013-Left wing councilors of the Municipality Council of Tirana, those of the Socialist Party and those of the Socialist Movement for Integration had warned a meeting of the council today with the aim of overthrowing the democrat chairman of this council, Njazi Kosovrasti.
But, during the time that they arrived at the doors of the municipality, the doors of the Municipality Council have been locked.
Immediately after this situation, the chairman of the socialist councilors, Aldrin Dalipi wrote on his Twitter profile that, "I could never believe that Basha would come to the point of changing the lock of the Municipality Council hall during the night, to block the telephone of the council and to change the password of the computer. What a shame! We appeal once again for him to preserve composure and to accept the majority without living this situation in a very painful way. There's a new majority for the citizens! Municipality police forces have surrounded the municipality. They want to protect it from the councilors? The responsibility for every act of haste falls upon Lulzim Basha".
After this situation, left wing councilors have signed a request through which they demand to the mayor to open the doors of the council and to allow the holding of the meeting required by the majority. /ibna/