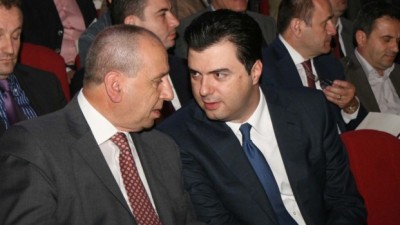 Tirana, May 3, 2013 by Arjola Ymeraj-In front of a situation where the door of the municipality council was locked, the councilors of the Socialist Party and the Socialist Movement for Integration have stopped in the hall and held a unilateral voting.
31 left winged councilors have voted in favor of the relief from duty of the chairman of the Municipality Council, Njazi Kosovrasti. The 24 democrat councilors were not present in this process.
Left wing councilors in the Municipality Council had announced the holding of a meeting today with the scope of overthrowing the head of this Council, Njazi Kosovrasti. But in spite of the announcement for the meeting, there had been no reaction by the municipality and the council hall has been locked.
In a press release, the head of the socialist councilors, Aldrin Dalipi invited mayor Lulzim Basha to maintain composure and respect the law along with the will of the majority.
Aldrini said that all legal steps for the holding of the meeting were carried out, because the councilors of the SP and SMI have the right to call the meeting being in majority.
"We found ourselves in front of an absurd situation. Changing the lock of the municipality council hall during the night, at a time when this hall is a property of the councilors, is ridiculous. We only want one thing; when there's a new majority, a meeting should be held in order to respect the will of the majority", declared Dalipi.
Another voting has taken place after the dismissal of Kosovorasti, for the appointment of the new head of the Municipality Council, Aldrin Dalipi.
The decision for the relief and new appointment will be sent to the Prefect of Tirana for verification and within 10 days, he will inform the Municipality Council. Nonetheless, it's still unclear how the Municipality Council will further act. The mayor of Tirana, Lulzim Basha is yet to come up with a reaction on this matter. /ibna/