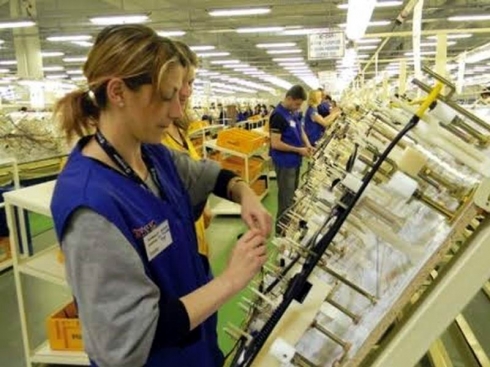 Belgrade, April 28, 2016/ Independent Balkan News Agency
By Milos Mitrovic
Yura, South Korean corporation which has several factories in Serbia, has by far the worst attitude toward workers, when compared with other foreign investors in the country. Zeljko Veselinovic, president of the trade union "Sloga", said this commenting 15 minutes strike in Yura's factory in Leskovac, in the south of Serbia, which was organized earlier this week.
"Our battle with Yura lasts already five years", Veselinovic told "Danas" daily. "They have been hitting (workers) with metal sticks, harassed women, although there were no rape cases. They forbade them (female workers) to go to toilet and suggested them to wear diapers for adults. If someone gets sick, they call ambulance to come to factory and if worker is not hospitalized she is obliged to get back to work", Veselinovic explained adding that many complaints have been submitted against Yura. However, nothing has been resolved so far, he stressed.
The cause of the latest rather symbolic strike was illegal decision of the management that workers would have not one day break for the upcoming Easter which coincides with International workers day, May 1. But physical and mental maltreatment of the workers, with government's silence on it, is far more worse, "Danas" reported.
Veselinovic recalls that six Yura workers have been fired after trying to establish trade union five years ago. "The court has found that they (workers) were right, but they were not reemployed", he says adding he was "proud" on workers because of their strike. "We will help them because this move should be highly appreciated but I'm afraid that the only consequence would be firing of those who have organized strike".
Ivan Jovanovic, president of Independent trade union in Leskovac, says that workers in Yura's factory in this town are frightened. "When you loose the job in the south of Serbia you may hardly find another one", Jovanovic explained. In his words, employees suffer too much in order to get their payments; and the average wage in Yura's plant in Leskovac is around 25.000 dinars, which is approximately 200 euros.
On the other hand, Serbian government has subsidized each Yura's job in Serbia with 10.000 euros. In 2015 only Leskovac plant received 950.000 euros.
Labor Minister Aleksandar Vulin reacted to "Danas" report by saying that "the behavior of the employers is almost impossible to prove". "Unfortunately, the workers call us only after they loose their jobs", Vulin told this daily adding that labor inspections go to Yura "with invitation or without it". When asked whether the inspectors have found any irregularities in Yura's plants, minister answered affirmative but said that there were no complaints on toilet denial for the workers.
Photo: Juzne vesti