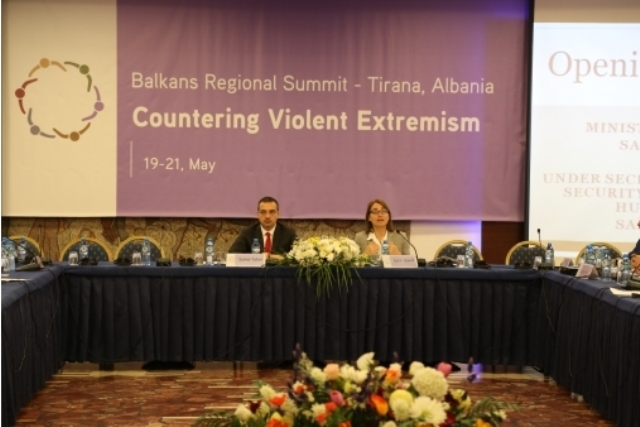 Tirana, 21 May 2015/Independent Balkan News Agency
A lot has been said about terrorism recently.  It's a topic throughout the whole world and it's the topic of negotiations and discussions between heads of states, especially developed ones.
Albania too has been involved in this debate. In the recent days, it hosted the Regional Ministerial against Violent Extremism. Interior ministers of Balkan and European countries participated in this summit.
More and more, Albanian authorities are talking about the danger that our country faces from terrorism and extremist phenomena. But many people think differently. A short vox-pop conducted by IBNA in Tirana, shows the conviction that Albanians have and according to them, most of extremism comes from religious problems and say that Albania is the cradle of religious cohabitation.
In fact, Albania is mentioned all over the world as a country where the main religions of the world cohabit with each other, without conflicts, which in several countries of the world continue to cause blood baths.
Then, what sort of extremism really threatens Albania today?
Minister of Interior, Saimir Tahiri insists that Albania faces the same challenges that any country in the world faces with extremism.
"No country is immune from the threat of terrorism and violent extremism and no the other hand, no country can register sustainable success in time on its own, if it doesn't join forces with civil society and local government", Mr. Tahiri says.
According to him, "in the case of Albania, but not only, there must also be joined forces with religious communities, which in our country play a key role, not only about religious and social harmony, but also for the education of positive models of religious practicing and to avoid practicing religion in a radical manner".
On the other hand, Mr. Tahiri says that violent extremism must not be associated with religious belief or one nationality. "Albanian society faces threats. On one side, they come as a lack of social integration or social exclusion, but also as a result of economic extremism", Tahiri says.
As it's the case with criminality, there are also problems with corruption.
Mr. Tahiri is aware of these. He says that the Albanian government has made determined steps in reforms and results in countering criminality, corruption and in reforming the system.
But all of these, he says, are not enough to do what we must do altogether, including society, including local communities, media and religious communities to fight violent extremism.
In spite of the fact that Albania seems like it doesn't have problems with violent extremism, although the region only seems to export foreign fighters at the present, the premises for the problem to turn a problem for Albania and the Balkan, exist and are present.
This has made the international community not to qualify those who go to Syria as fighters in countries of terrorism.
The Tirana Ministerial also defined this. Mr. Tahiri says: "We agreed not to consider only Albanian nationals who go to Syria as foreign fighters, but also Serb nationals who go to Ukraine to fight. Thus, there is not a single costume for what we call violent extremism, for as long as we agree to include everyone in that category or all of that practice that endangers the foundations of our civilization and the values of our societies."/ibna/