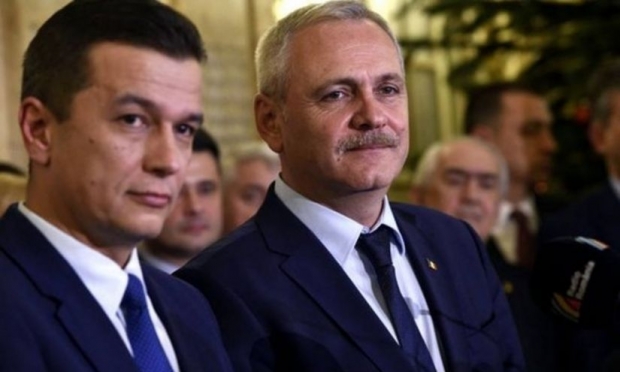 Social-democrat leader Liviu Dragnea has announced on Tuesday the list of ministers to be part of Sorin Grindeanu cabinet. The list is to be submitted to parliament later on Tuesday by the PM-designate.
The list of ministers includes:
Deputy PM, Minister for Development – Sevil Shhaideh;
Deputy Minister and Minister of Environment – Daniel Constantin (ALDE);
Delegate Minister for European Funds – Virginia Toader;
Economy Minister – Alexandru Petrescu;
Foreign Affairs Minister – Teodor Melescanu (ALDE);
Delegate Minister for European Affairs – Ana Birchall;
Finance Minister – Viorel Stefan;
Interior Minister – Carmen Dan;
Agriculture Minister – Petre Daea;
Culture Minister – Ionut Vulpescu;
Education Minister – Pavel Nastase (technocrat);
Labour Minister – Olguta Vasilescu;
Research Minister – Constantin Valeca;
Energy Minister – Toma Petcu (ALDE);
Justice Minister – Florin Iordache;
Minister for Forests – Adriana Petcu;
Communication Minister – Augustin Jianu;
Health Minister – Florin Dorel Bodog;
Tourism Minister – Mircea Dobre;
Transport Minister – Razvan Alexandru Cuc;
Minister for Romanians Everywhere – Andreea Pastarnac;
Minister for Parliament Liaison – Gratiela Gavrilescu (ALDE);
Minister for Business Environment – Nicolae Florin Jianu;
Minister for Public Consultations – Gabriela Petrea.
PSD and ALDE leaders met on Tuesday to approve the list of ministers.
PM-designate Sorin Grindeanu is to submit the list to parliament later in the day.
Hearings by parliamentary committees are to take place Wednesday morning. On Wednesday afternoon will take place the debates and the vote in parliament plenum.
The investiture vote will take place on Wednesday at 19.00h and the cabinet will be sworn in at Cotroceni Palace. According to Liviu Dragnea, the first cabinet meeting of the new government is expected later in the evening.
Premier-designate Sorin Grindeanu said that the Government will be political, based on the PSD-ALDE coalition, but its activity will not be a political one, but focused on the country's administration.
"Me and my colleagues understand our position very well. We are a political government based on PSD-ALDE coalition but politics is made somewhere else. We are to rule to administer the country. We have a ruling programme voted by very many Romanians, which meant that Romanians trusted what we had proposed, which urges each of us, starting with me and the rest of the governmental team to show modesty, responsibility and respect to the Romanians. It's what will guide us through ruling," Grindeanu stated./IBNA
Source: romaniajournal.ro