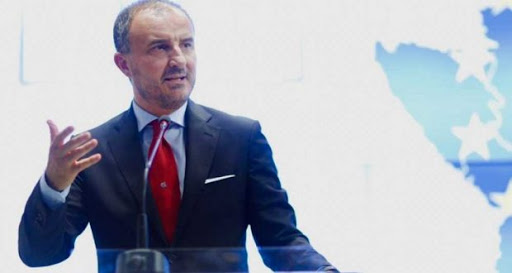 "Access to money is the best way to fight organized crime", Ambassador Luigi Soreca, head of the European Union delegation in Tirana, said in a press conference today.
Asked about the anti-corruption and organized crime bill, Luigi Soreca said that "combating organized crime and corruption is key for the EU. And for Albania as well. Therefore, every effort should be made to step up the fight against organized crime and corruption. Progress has been made, but much remains to be achieved. Full respect for justice reforms will be the most important instrument, the strongest weapon in the fight against organized crime and high-level corruption. We look forward to making SPAK fully operational so that it can take on this task and fulfill it comprehensively. I will meet with Mr. Kraja, president of SPAK this week".
"As for the law on specific measures for the prevention of organized crime, otherwise called the law on organized crime and corruption; I am indeed an EU ambassador, but I also have my own experience to put on the table, and I think the 'look for money' approach is the best way to fight organized crime. I think this has happened in many countries, including the places where I worked many years ago. I think this is where the law aims as well, and I think this bill shows the political will to tackle and resolve the problem", he added.
"What is important, however, is the way in which this law will be implemented. Action is essential; it is the key. We see two essential conditions for the implementation of the bill to be in line with the rule of law. Firstly, that the fundamental rights of the parties' subjects are fully respected, that is, of those convicted or under investigation for organized crime. This is a prerequisite", Soreca argued.
"The assets have been confiscated, but we are following the just legal process and respect for fundamental rights. We are monitoring it closely. We stay in touch with the Albanian authorities, and I will get in touch with SPAK", Soreca said.
The second condition, the EU Ambassador to Albania continued, "is the functioning of the operation. SPAK must, by law, confirm all actions taken by the police and forward them to the court for a final confiscation order. We are following this process too", Soreca concluded. /ibna