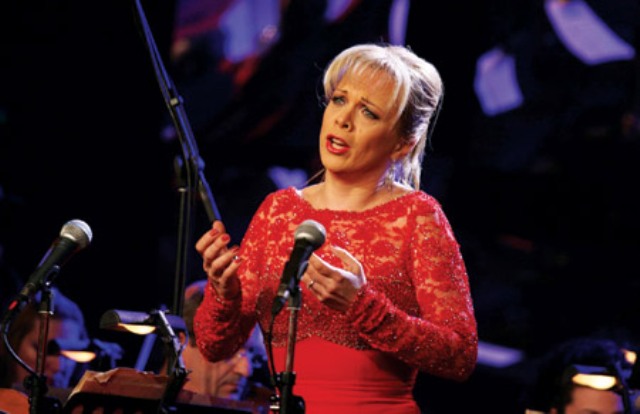 Tirana, 27 May 2015/Independent Balkan News Agency
World famous Albanian soprano, Inva Mula, will be presented in the next few days before the public as opera director. In the first days of June, Mula will bring the opera "Pagliacci" with an excellent cast of artists such as Mariana Leka, Devide Le Verde, Walter Fraccaro, Ylber Gjini, Armando Likaj, Klodian Kacani and with music conductor Michelangelo Mazza.
Although this opera has been generally performed along with the opera "Cavalleria Rusticana" by Mascagani, in this production, the opening has been perceived in a very original way with several arias taken from two operas, "Adriana Lecouvreur" (Francesco Cilea) and "Cavalleria Rusticana" (Mascagani), which will be accompanied with choreographic parts specially prepared for these shows, which will be performed by the ballet dancers of the National Theater of Opera and Ballet, choreography by Esdalin Gorani.
The arias will be interpreted by two prominent soloists of the Theater of Opera and Ballet, Eva Golemi and Vikena Kamenica.
Inva Mula reveals the reason why she has decided to be a director of this opera which comes on the stage of the National Theater of Opera and Ballet in Tirana.
"I, myself, am a product of the opera Pagliacci. In the past, in the Tchaikovsky conservatory in Moscow, canto students used to perform this opera and two young people fell in love during the duo of Nedda and Sylvio, but the event did not go on as it did in the opera; it ended up in great and passionate love, where the two young people continued to live it not only in opera, but in the 55 years that they lived together".
Inva says that even today, she doesn't know if it was her that chose to put this opera on stage, or it was the opera who chose her, in order for her not to be just a performer, but to perceive it as an event in the streets of her birth place.
The famous soprano says that the Nedda's can also be the story of every Albanian girl, "where unfortunately, life no longer has the value it deserves and that it cannot be taken by the husband, lover or ex husband".
Inva Mula is convinced that after the show, the public will come out reflecting. "We bring a message against violence to women. Appreciate your sister, wife and Albanian woman in order to cultivate generations that will contribute for the emancipation of our society". /ibna/