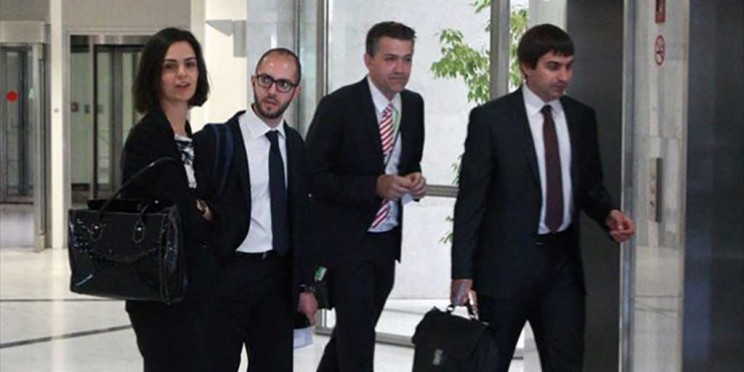 "Some progress" was recorded during Monday's talks between the Greek government and the country's international creditors in Athens.
According to an unnamed senior Labor Ministry source who spoke to the Athens News Agency, negotiations with the top envoys of the institutions representing Greece's creditors focused on fiscal issues, taxation, social security and the so called counter-measures the Greek coalition government wants to implement to offset austerity.
A fresh round of talks will begin on Tuesday morning when technical teams are due to meet while negotiations at ministerial level will begin at around 15:00 local time.
The Labor Ministry source was asked if creditors demand pension cuts worth 1 percent of GDP in total, to which he replied that "we did not agree on a percentage but there was some progress". He also clarified that labor issues were not discussed.
The creditors also met on Monday night with Finance Minister Euclid Tsakalotos and Economy Minister Dimitris Papadimitriou to discuss the management of non-performing loans.
Over the last few days it has become increasingly clear that the coalition government and creditors are no closer to concluding the review of the bailout program.
Analysts point out that any chance of wrapping up the review this month is evaporating while, according to some reports, a compromise being examined is extending the current program by one year.
To further dampen economic prospects, Greece's statistics agency ELSTAT reported on Monday that its seasonally adjusted, revised data showed a 1.2 percent drop in economic output during the October-December period, worse than the 0.4 percent retraction projected in February's flash estimates.
However, speaking to cabinet members on Monday, Prime Minister Alexis Tsipras was adamant that following seven years of disastrous recession the economy is already returning to growth. In a thinly veiled swipe at the country's creditors, the Greek premier also attacked those "who bear the greatest blame for the disastrous economic recipes since 2010".
Commenting on the ELSTAT figures, a European Commission spokeswoman said "we continue to expect growth this year," adding that the implementation of the reforms is necessary in order to restore confidence.
Meanwhile, main opposition New Democracy blamed the government for the state of the Greek economy which is partly attributed to the delay in completing the review of the bailout program./IBNA