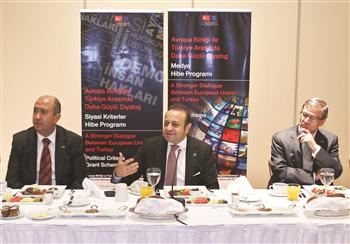 By Selim Akan
EU Minister Egemen Bağış has said Turkey is unsatisfied with the political crisis in Turkish Cyprus and has urged its solution as soon as possible, amid growing public discontent with the administration.
A group of lawmakers from Turkish Cyprus' ruling National Unity Party (UBP) recently issued a motion of no confidence with opposition parties, pushing the country into political turmoil. The ruling party and the opposition also agreed to hold early elections on July 28. Parliamentary elections were due to be held in April 2014.
"There is an ongoing crisis in Turkish Cyprus. We are dissatisfied with this and it is not something that can be explained rationally. I hope they will come to their senses," Bağış told a group of reporters yesterday in Istanbul. Fierce debates erupted in Parliament earlier this month over the proposal on early elections, after opposition parties suggested holding polls on Sept. 29 in response to Prime Minister İrsen Küçük's offer, which had suggested July 21 as the date.