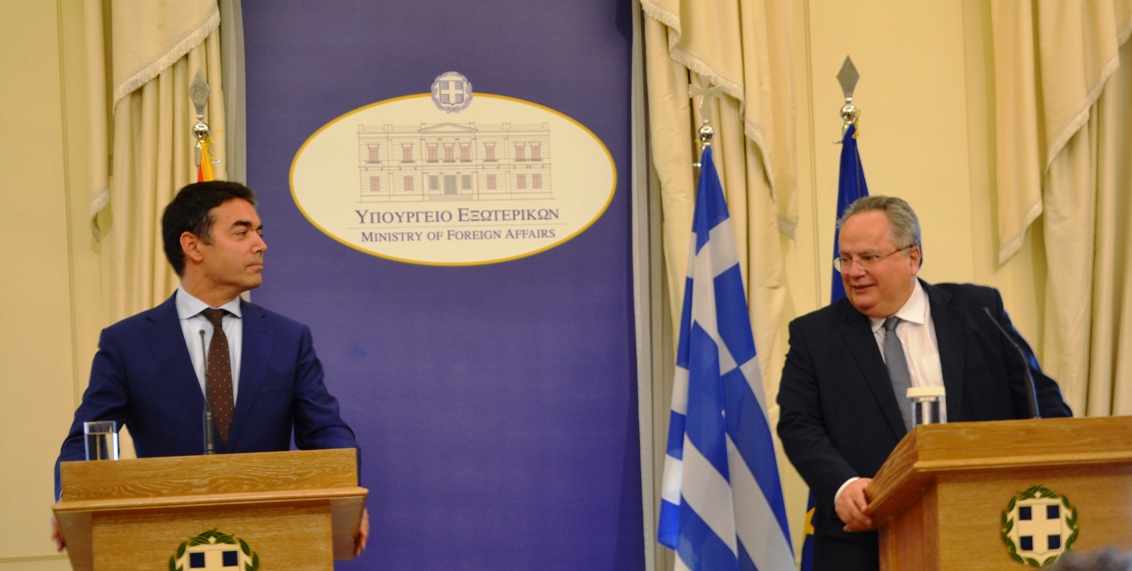 Athens will not consent to NATO entry for the FYRO Macedonia before the name dispute with Greece's northern neighbour is resolved, Greece's Foreign Minister Nikos Kotzias made clear on Wednesday, after a meeting with fYRO Macedonia Foreign Minister Nikola Dimitrov.
While Greece wanted FYRO Macedonia to join both the EU and NATO "this can happen very simply by finding a compromise solution on the name dispute and then immediately going to the United Nations to sign our new agreement – and then to Brussels to announce it to the international organisations based there," Kotzias said.
The two ministers held talks for more than two hours and afterwards described their meeting as a "very good start," which indicated a willingness on both sides to further develop bilateral relations and seek a solution to the name issue.
Replying to questions on whether the name dispute was linked to FYROM inclusion in the EuroAtlantic system, Kotzias noted that Greece wanted the entire Western Balkan region to be included in EuroAtlantic structures.
"The real issue, however, is how much the countries themselves desire this. They cannot expect us to want it more than they do," he pointed out. Greece could not be asked to make concessions and back down from its positions when the countries having a direct interest in the outcome refused to do so, "for something that in theory interests them more than us," Kotzias added.
"We are interested but believe that they are also interested. When both sides are interested, therefore, we must find a path of understanding and compromise," he said. The Greek government, on its part, will make every effort to find a path of compromise that is right and beneficial for both sides, he pledged.
"For this reason I consider it very important that today we picked up from where we left off with Nikola. We will continue in a more carefully planned fashion in the last week of August in Skopje. Dialogue and the democratic disposition that both sides have is the best guarantee that we will find a solution," Kotzias noted.
The discussion held on Wednesday did not resolve any of the issues relating to the specific problem but there was a good atmosphere and therefore the best possible framework for discussing this difficult problem, he added./IBNA
Photos: IBNA/Spiros Sideris