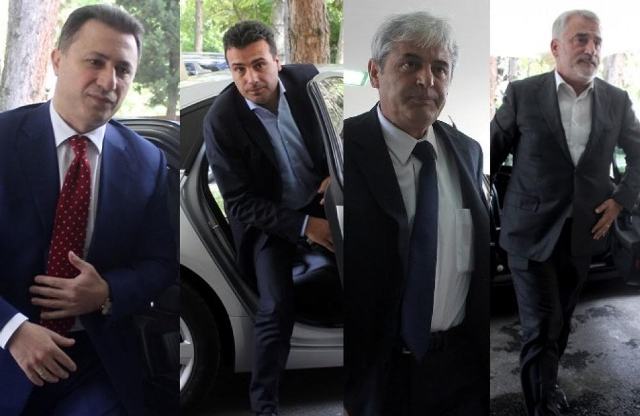 Skopje, 31 August 2015/Independent Balkan News Agency
By Naser Pajaziti
Political parties in FYROM are still facing delays in the implementation of the June 2 political agreement for the solution of the political crisis.
In the meantime, political parties have their differences in relation to the election of the Special Prosecutor, which will be a new institution which will deal with the investigation of the wiretapping affair, but also the so called "Putsch" affair, which has to do with the leader of the Macedonian opposition, Zoran Zaev, who is accused by the current party in power of espionage and of putting in danger the interests of the state.
Macedonian opposition said that party in power, VMRO-DPMNE is delaying the implementation of the agreement for the solution of the political crisis.
The disagreements consist on the election of the Special Prosecutor. The opposition want this institution to be a separate institution from the General Prosecution, while the party in power demands the special prosecutor to be part of the General Prosecution and handle the wiretapping affair.
Zaev demands the agreement to be respected
Leader of the largest opposition party SDSM (Macedonian Social Democratic Party), Zoran Zaev warned the escalation of the crisis if the Special Prosecutor is not elected until September 15.
"This thing must happen. Our international partners are here and there's no turning back. I expect investigations to take place for the heads of the state who were involved in crime, to take place until election time. There's no need for new amnesties. Nobody can escape the obligations stemming from the June 2 agreement", Zaev declared.
Gruevski "mocks" Zaevs threats
Prime Minister and leader of VMRO-DPMNE, Nikola Gruevski declared that the  threats from the leader of opposition, Zoran Zaev are part of the folklore and that he launches them in order to lift morale within his party's ranks.
"This is part of Zaev's folklore, for whom it's been recently difficult to keep the morale within his party high. As you know, in the past he used to say that the government would fall within three days. Then, he changed it to 30 days, then to 45 days, then to 60 and son an. Meanwhile, nothing happened. Based on our latest polls, the citizens will once again vote VMRO-DPMNE", Gruevski declared.
According to him, while the opposition continues with threats, the government will continue with projects.
Analysts demand more international pressure
Experts of political developments in the country say that the international factor, which guarantees the June 2 agreement, will put pressure on political sides for the implementation of the agreement.
"The implementation of the agreement is facing different obstacles. This status quo can prompt fresh political tension. It's a known fact that Gruevski doesn't respect agreements and he will try to cause delays in order to enter fresh compromises.
Without the intervention of the international community, there is no solution", declared for IBNA, political analyst, Xhelal Neziri.
According to the June 2 agreement reached between the main four political parties, the opposition  must return to parliament, a Special Prosecutor must be elected to investigate the wiretapping affair, Gruevski's government must resign and a new interim government must be appointed until 15 January. The new interim government must organize fresh general elections on April 24, 2016. /ibna/