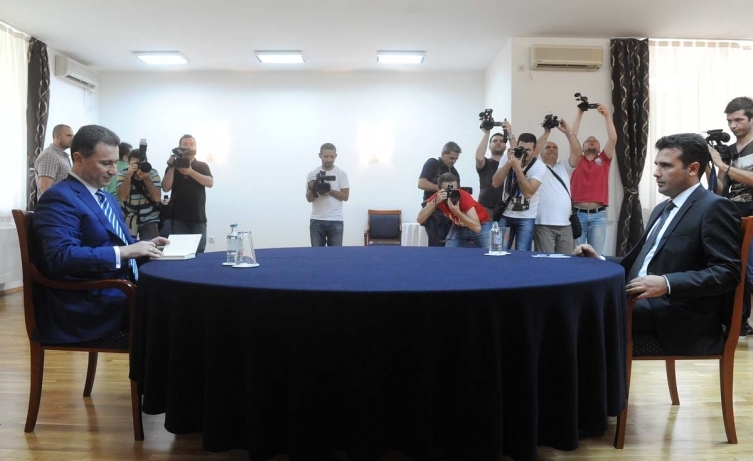 Skopje, 1 June 2015/Independent Balkan News Agency
By Naser Pajaziti
Debates continue in FYROM in order to find a solution for the deep political crisis.
The main political parties are not withdrawing from their positioning and as a result of this, no progress has been made in the dialogue initiated with international brokerage.
Macedonian opposition has reiterated the demand for the resignation of PM Nikola Gruevski's government, while the latter has rejected such thing.
The spokesman of the largest opposition party SDSM (Macedonian Social Democratic Union), Petre Silegov, declared that the only solution for the crisis is the removal of PM Gruevski from power. "The only solution is Gruevski's removal from power along with his collaborators, who are trying to remain in power at any price", declared Silegov.
During the weekend, PM Nikola Gruevski rejected the proposal for his withdrawal and the creation of an interim government.
"We are coming up with ideas and we're being constructive for the solution of the political crisis, but this doesn't only depend on us. Our position is clear; the government can only be formed by the people and through the elections", Gruevski declared. According to him, political parties cannot make projections without winning the support of the citizens.
But, political analysts say that Gruevski has realized that he cannot escape to the creation of an interim government.
"Gruevski's declarations aim at gaining political credit or to keep VMRO-DPMNE voters under control. I believe that he's convinced that this great pressure will lead him to accept the proposal for an interim government, which will give way to the solution of the crisis", declared political analyst, Sefer Tairi.
Smaller Macedonian and Albanian parties demand a technical government consisting of prominent experts and not a government made up of only four parliamentary parties.
Goran Milevski from the Macedonian Liberal Democratic Party (LDP) and Ziadin Sela from the Party for Reforms at PDSH, demand a technical government.
"Both sides say that the only way to solve the political crisis is through the urgent creation of a technical government with a clear mandate. On the other hand, this government must address the issues that relate to the improvement of the status of Albanians", Sela says.
Citizens are not optimistic that the political crisis will be solved. Only international negotiators are hopeful for an imminent solution.
"This situation must be solved until the end of the month. Gruevski must resign. We are not happy with the PM. First of all, due to the monuments that have been built, the constant penalties that are issued, imprisonments, threats, and so on. Every time he hears someone says something that goes against him, he imprisons him", says Milovan D, a pensioner from Kumanovo.
The next round of negotiations has been scheduled for Tuesday and present in it will be EU Enlargement Commissioner, Johannes Hahn and three MEPs, Richard Howitt, Eduard Kukan and Ivo Vajg. These talks are said to pave the path to the solution of the political crisis in FYROM. /ibna/