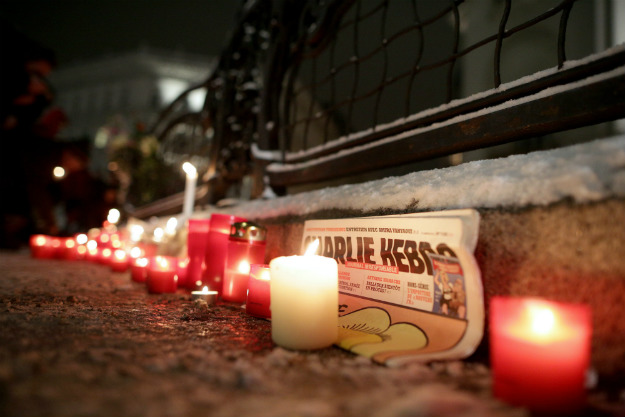 Zagreb, January 8, 2015/ Independent Balkan News Agency
By Marija Avramovic
The day after the bloody assault on the satirical weekly Charlie Hebdo, during which 12 people were killed, all over the world and Europe, including Croatia, are held rallies in support of this Parisian media whose journalists paid the freedom of expression with their lives.
European Grassroots Antiracist Movement, whose member is the Youth Initiative for Human Rights, organized an action of support for Charlie Hebdo weekly and freedom of speech and media, but only some journalists and few citizens came.
"A rally in Zagreb will be held at 3pm on the Square of the Republic of France, where candles and flowers will be placed with messages of support and condolences. The organizers invite the public to join in order to raise awareness about this tragic event and to support freedom of speech and media", stated  the invitation.
A second gathering, at which the citizens were invited via Facebook, and which nominally is not in the organization of any association or organization, is scheduled for 7pm at Ban Jelacic Square, from which gathered people will march to Zrinjevac where the French Embassy is.
Calls for peaceful vigil of citizens began to spread yesterday on social networks in solidarity to the murdered journalists of the satirical weekly Charlie Hebdo and their families.
The attack on the newspaper sparked a wave of indignation in France and prompted more than 100,000 people in a spontaneous protests across the country.
The attack was condemned by numerous users of social networks who shared posts of support "Je suis Charlie!" and "Nous sommes tous Charlie!".