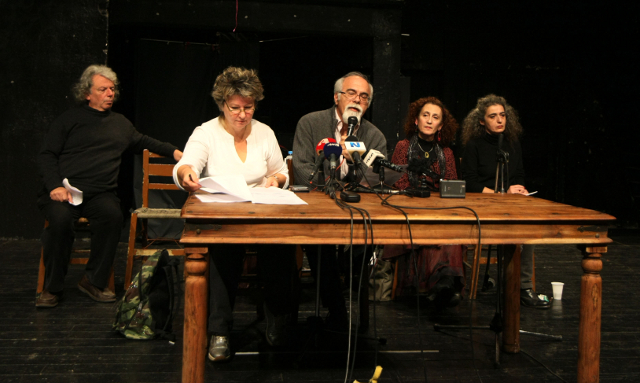 Athens, December 3, 2014 / Independent Balkan News Agency
By Spiros Sideris
A rally and solidarity march for the hunger striker Nikos Romanos held on Tuesday afternoon in downtown Athens about 5000-6000 people.
After completing the march, groups of protesters turned over parked cars vehicle at the intersection of Solon and Hippocrates and damages were caused in a bank branch, while garbage bins were set on fire.
Deputy prime minister and president of PASOK Evangelos Venizelos, is in communication with the State Minister Dimitris Stamatis, Justice Minister Haralambos Athanasiou and Education Minister Andreas Loverdos, at his initiative on the issue of Nikos Romanos, according to sources from Harilaou Trikoupi.
Based on the same information, they are examining whether there is a need for a legislative initiative on the subject of his studies. The decision of the Judicial Council, which is considering the request of  Romanos is still pending.
Earlier on Tuesday, was stressed the seriousness of the health status of Nikos Romanos, who is the 22nd day of hunger strike in protest of the failure to be granted an educational leave, during a press conference given on the matter by the parents of anarchist prisoners on hunger strike (Nikos Romanos, Giannis Michaelides, Andreas-Dimitris Bourzoukos and Dimitris Politis).