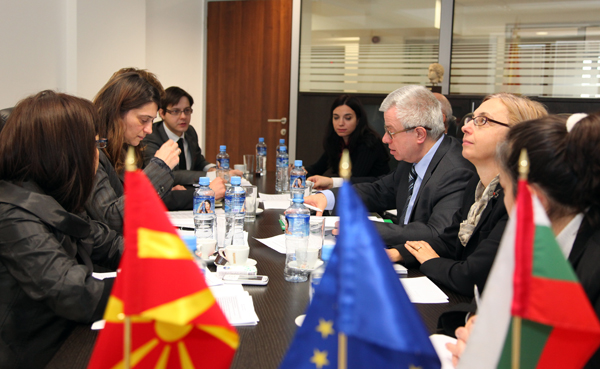 By Clive Leviev-Sawye of the Sofia Globe
Officials from the foreign ministries of Bulgaria and F.Y.R.O. Macedonia held consultations on European Union issues in Skopje at the invitation of the host foreign ministry on December 12.
The delegations were led by the respective directors of the two countries' EU directorates.
"The consultations confirmed mutual readiness to deepen bilateral co-operation in the context of European integration," a statement from Skopje said.
There was agreement to intensify dialogue at expert level to transfer the Bulgarian experience in the accession process in specific chapters of European law and under the memorandum of co-operation in the field of European and Euro-Atlantic integration between the two governments, the statement said.
The F.Y.R.O. Macedonian side gave a briefing on current activities in key areas of the accession process, the willingness to start negotiations for accession to the European Union and the importance of Bulgaria's support in this context.
The Bulgarian officials said that the country supported the EU enlargement process to receive the countries of the Balkans into the EU, with the fulfillment of the Copenhagen criteria for EU membership.
The meeting also reaffirmed the importance of cross-border cooperation and the efficient use of European funds, through the implementation of joint projects under the IPA program and its continuation through the new instrument of financial assistance IPA2.
It was agreed that the next consultation on EU issues in this format would be held in the first half of 2014 in Sofia.
The meeting between the officials came a day before a scheduled visit to Sofia by F.Y.R.O. Macedonian foreign minister Nikola Poposki, to be hosted by his Bulgarian counterpart.
Earlier, on December 4, Bulgarian President Rossen Plevneliev said that signing an agreement on good-neighbourly relations and cooperation remains a priority for Bulgaria and is of crucial importance for gaining Bulgaria's support for the beginning of the negotiations of the F.Y.R.O. Macedonia on EU membership.
Bulgaria state and government leaders repeatedly have called for the signing of such an agreement, as essential to Skopje meeting the criteria for EU membership.