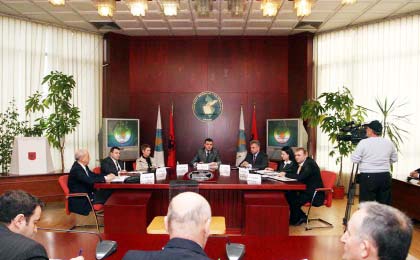 Tirana, 17 April 2013
Deputy Chairman of Central Elections Commission (CEC) Denar Biba who was proposed by the Socialist Party, has announced his resignation.
His resignation was immediately followed by that of the other CEC member, Albana Shtylla, proposed by the Socialist Party.
These decisions came after the replacement by the Albanian Parliament of the CEC member proposed by Socialist Movement for Integration (SMI).
CEC Deputy Chairman, Denar Biba declared that his resignation was not politically motivated, but he added that it was a reaction to the Parliament's dismissal the SMI-proposed CEC member.
The other CEC member who resigned, Albana Shtylla, has so far made only a resignation statement, but did not explain the reasons for the decision.
After the resignation of these two members, the Socialist Party remains unrepresented in the Central Election Commission. /ibna/