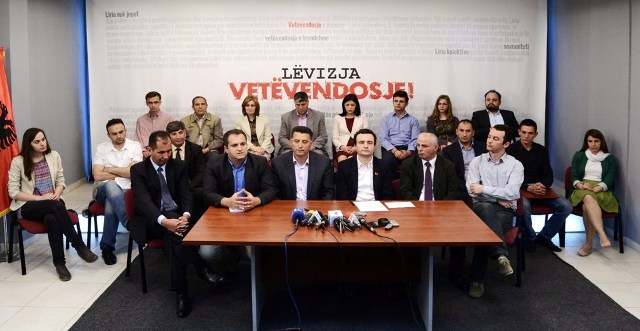 Pristina, April 26, 2013, by Tinka Kurti-The Socialist Party of Kosovo joined to the Self Determination Movement along with its members and its representatives in the local government. This was made public during a joint press conference in the offices of the Self Determination Movement!
"We're here today to announce that Self Determination Movement joins with the Socialist Party of Kosovo. As of today, the members, representatives in the communal assemblies and the structures of this subject become part of our movement. We're joining forces in order to intensify our engagement. With the members of the SPK, we've also cooperated in the past in different activities of a national and social nature", said the leader of the Self Determination Movement, Albin Kurti. Kurti also said that "the history of legal and illegal organizations for republic and liberation, for national unification and justice, for freedom and equality, in the past few decades is closely linked with these people, with these devoted activists, who as political dissidents in the past and fighters of the Kosovo Liberation Army afterwards, have always been in the front line and never spared anything for the nation and our country".
The chairman of the Socialist Party said that this party has joined the SD with all its structures and with the symbolic fund that this party has had.
"It's the will of the members of the Socialist Party of Kosovo and of its structures for us to be together. I believe that together, we have fought against invaders. Now we have more reason to be together in the consolidation of the state of Kosovo and I believe that our country today, needs more than ever to have parties with clear political and economic programs in the interest of the citizens of Kosovo, parties that have been tested before and parties whose scope is to preserve the values of our society, the economic development and the unification of the nation", said the chairman of the Socialist Party, Iliaz Kadollo. /ibna/