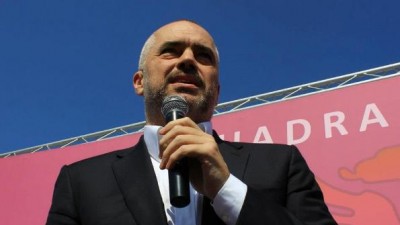 Fushe Kruje, May 24, 2013
Leader of the Socialist Party, Edi Rama said today during a meeting with supporters of this party in Fushe Kruje that teachers, especially school principles, are being used in this electoral campaign by the government.
"I have one thing to say to school principles. Leave the Prime Minister and do your job in conformity with the Constitution and the law. Every school principle that will put pressure upon school teachers in order for them to participate in the campaign, will face the justice system after the June 23 elections", said Rama.
Happy about enthusiasm shown at the center of Fushe Kruje, Rama said, "I'm happy to be here today with two MPs that represent a long experience of honesty such as Namik Dokle and the extraordinary energy of the youth of this country with Artur Bushi."
"On June 23, all of you that live with a small business, have the great chance to vote for the SP in order to halve the flat tax and to take more money to your families. On June 23, you will have the chance to be issued with the land ownership title. For all of those who are powerless in front of the stratospheric prices, I encourage you to zero the flat tax of the current government on eggs, meat, food and medicine", promised the head of the opposition. Rama also said that the Socialist Party will assist farmers by zeroing the excise on diesel, fertilizers and by investing five times more in agriculture and farming. Rama also said that 165 million USD will be invested in order not to allow flooding of agricultural lands.
"By voting the Socialist Party, every household will reduce taxes on personal earnings and will contribute for an honest taxation. In a few words, the SP will reduce taxes for 95% of the Albanian people", said Rama.
The leader of the SP also promised that every fine issued to businesses as of March 1st by this administration, will be subject to amnesty by the next government. /ibna/