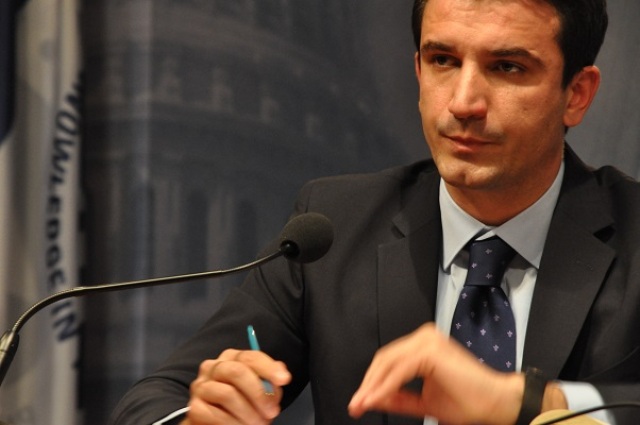 Tirana, July 18, 2014/ Independent Balkan News Agency
Minister of Social Welfare, Erion Veliaj has presented today (18.07) at the parliamentary committee for economy the bill on social securities and pensions.
In his speech, minister Veliaj said that it's necessary to introduce a social pension, as according to him, a part of the population will not be able to benefit pensions.
"We're planning to have a unitary system for the calculation of pensions. In 2013, we had 430 million USD subsidized by the state and an increase of deficit. We have exhausted the maximum that the state can subsidize in this scheme", said Veliaj.
He said that incomes from contributions amount to half of expenses, while the rest consists on subsidies. Explaining the new scheme, the minister declared that it will be realized in a gradual way, but in a serious way.
"With the current scheme, the only way to preserve a healthy situation is to reduce pensions. But, if we look at the new scheme, it preserves the same standard of the rate of replacement. The new coefficient rewards those who come out in pension in 2015. We have only one minimum pension and maximum pension has been lifted", said minister Veliaj.
He said that there will be an increase of pensions for all of those who are in the current scheme. According to the minister, this reform has two objectives: "We want to offer more decent pensions and we want to give everyone what they deserve. Given that many people work in the black market, their incomes must be declared, in order for them to benefit when they're in  need", said the minister.
He added that the only way is to build a formula where everyone is better off at work than at home. Veliaj said that everyone will be allowed to have two or three jobs. "If on the first job, a person will pay contributions, on the second and third one he will not be taxed", said Veliaj.
According to him, for all people in need there will be a social pension, while for all the others, the pension will depend on their salary.
"This is a way to tell people that it's up to them how much they want their pension to be. The social pension scheme will be kept under watch. We will be tougher with those who can pay", said the minister of Social Welfare and Youth, Erion Veliaj. /ibna/