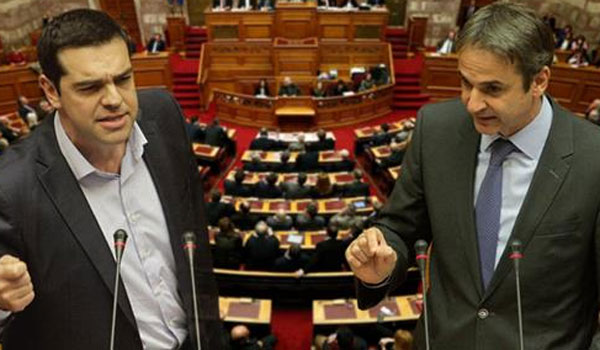 A "war" of words broke out over the weekend between the Greek government and main opposition party New Democracy.
On Sunday the Prime Minister's office issued an announcement responding to statements made by conservative party leader Kyriacos Mitsotakis on Saturday attacking the government over its handling of the economy and negotiations with the country's creditors.
The government said it "expected nothing better from Mr. Mitsotakis who has the audicity to reproach the Prime Minister for the one off 13th pension given to 1,600,000 low paid pensioners when at the same time he did not vote in favor of it".
According to the announcement, New Democracy intended to approve in parliament the social benefits announced by Prime Minister Tsipras – without consuting the country's creditors – but changed its stance on the order of "the most extreme circles" amongst Greece's creditors, in a veiled reference to German Finance Minister Wolfgang Schaeuble.
The main opposition party issued a short announcement in which it noted that it "will not follow them in this vulgarity", adding that "citizens deserve another ethos and style of power and will get it soon". Party sources later on Sunday said the PM appears to have "amnesia" that is "fueled by audacity".
On Saturday, New Democracy leader Kyriacos Mitsotakis reiterated his call for snap elections. He told party supporters during a speech in Komotini that "Tsipras was tested [in power] and failed", adding that "never before has Greece had such a need for so radical a restart, to leave behind this nightmare".
On the sidelines of a summit of the European People's Party in Brussels, the New Democracy leader met last week with European Commission President Jean-Claude Juncker, European Commission VP Valdis Dombrovksis and Economic Affairs Commissioner Pierre Moscovici.
Speaking to Kathimerini newspaper, Dobrovskis was especially critical of Greek Prime Minister Tsipras over his decision to unilaterally hand out social benefits, calling the move "unnecessary, unhelpful […] and created some turbulence".
Local reports in Athens suggest that as the Greek political landscape tends towards polarization in coming weeks, talks between the government and creditors should also be expected to be tough with no agreement in sight before mid January at least.
Valdis Dobrovskis said he believes the rift between the lenders is "bridgeable" and Greece's bailout program review can be completed in the next few months./IBNA