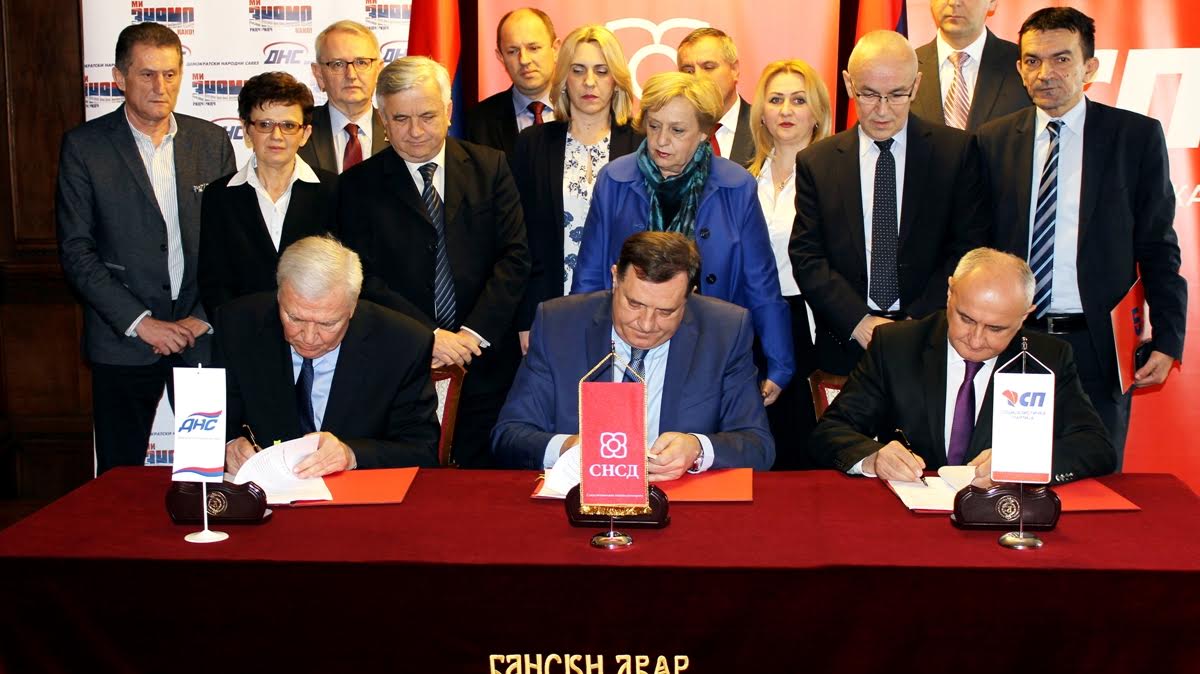 Alliance of Independent Social Democrats (SNSD), Democratic People's Alliance (DNS) and Republika Srpska Socialist Party presidents, Milorad Dodik, Marko Pavić and Petar Đokić, signed on Friday in Banja Luka a renewed agreement about their political coalition, which also means that they reached an agreement on how to appoint candidates to main positions for the upcoming General Elections in country.
Earlier it was announced that Dodik, who is also the Republike Srpska president after winning the last two polls, would be the coalition candidate for the Serb side of BiH's Presidency. His opponent will be an opposition coalition candidate, Mladen Ivanić, who expects to be elected in one more mandate since he is in that position in the past four years.
After the signing ceremony, Dodik said that this is the oldest and most stable coalition in the state's political scene and that parties participating in it will continue to form the political life in Republika Srpska and to be an important factor in BiH.
"We expect the best election result of the upcoming vote and, according to last public opinion poll, it could be about 70 percent," said Dodik.
He added that coalition leaders agreed on the way they will distribute the main non-electoral positions after the victory in the elections. Dodik also said that the candidate for the position he is holding as RS's President is also agreed but that it is too early to announce that name.
SNSD is the strongest party in the coalition with, according to some public opinion researches, about 37 percent of supporters in Republika Srpska. DNS is the second strongest branch of the coalition with about 12 percent and the Socialist Party has just about five percent. DNS have also been perhaps the fastest growing party in BiH and in only four years came third in the list of RS parties. First is SNSD, the opposition Serb Democratic Party (SDS) with 17% is on second place and the DNS "stole" Party of Democratic Progress RS's (PDP RS) third position, so now they have about seven percent.
The agreement also means the end of rumours that the DNS will abandon the coalition because Dodik did not want to give more positions that are important to this party's members. DNS leader, Marko Pavić, recently said that this party will have its own candidates for all electoral positions in the entity and at state level. At the same time, the party was enriched with prominent members from opposition parties. There was no indication that Pavić will easily give his party votes to the same coalition as in the last almost two decades. Nobody knows what the deal between SNSD and DNS is but the answer will be known in a few weeks, when the coalition announces the candidates' names… / IBNA