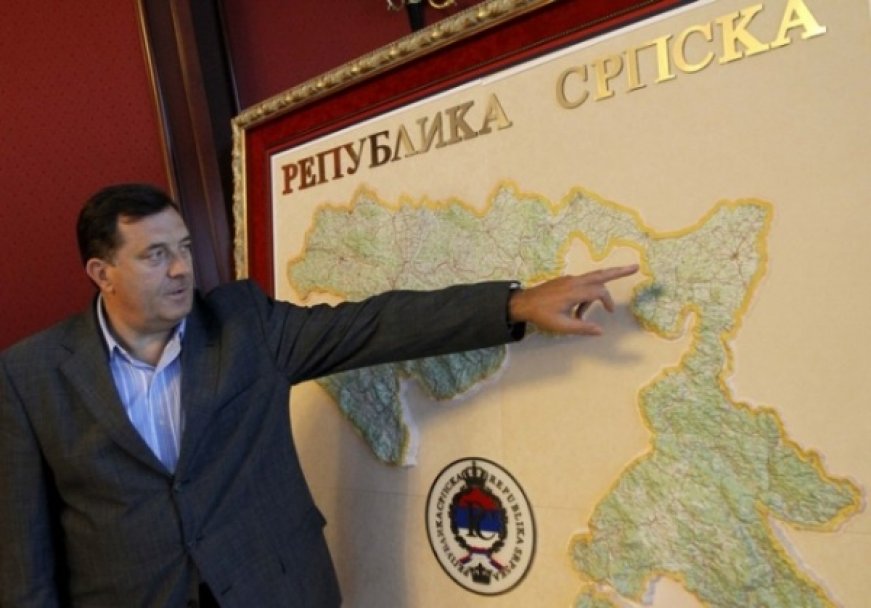 Banja Luka, April 27, 2015/ Independent Balkan News Agency
By Mladen Dragojlovic
Two days after Alliance of independent social democrats (SNSD) congress in East Sarajevo, where the controversial Declaration on Republic of Srpska independence was adopted, various organisations are still reacting on this obvious provocation.
SNSD leader and RS President, Milorad Dodik, adopted the document which calls for a referendum on RS independence, unless there is a visible sign of stabilisation and acknowledgement of RS views and restoration of its competences in line with BiH Constitution by 2017.
"In that case, we will propose to the National Assembly to call a mandatory referendum of the status of RS, Dodik said on the press conference in East Sarajevo, Saturday afternoon.
He added that the referendum would pose question to the citizens to decide whether RS will become an independent state. The Constitution and law of RS, as he said, envisages a referendum because we do not hold referendums at the level of BiH, but at the level of RS. According to him, this is the SNSD's view that was presented in the Declaration need "Republika Srpska – a free and independent future and responsibility", on which other parties and non-governmental organisations can also agree.
Dodik stated that towards the end of 2017, the SNSD would hold a convention that would assess whether the process of acknowledging RS views had started and what kind of a proposal would be tabled at the RS National Assembly.
There was no need to wait too long for reactions on this controversial Declaration. Even Serb political parties in BiH Parliament condemned this Declaration as an anti-Dayton act that doesn't contribute to the process of reconciliation in the state.
"Is Dodik ready to take the gun in the hands and implement his ideas or him and his friends will do what they did 1992 – take a seat in an airplane and run from BiH to a secure place? The government should do what citizens expect from them: to revive the economy, increase employment and combat corruption, but not to spread ideas for which even Dodik himself knows that will not be implemented. These are ideas advocated by Dodik, and the SNSD performs them blindly, but they are dangerous for the citizens of RS", said leader of opposition Peoples democratic movement RS and former RS president, Dragan Cavic.
The Office of the High representative in BiH also condemned the Declaration and EU Special representative office, in its reaction, emphasise that offer of EU membership is made to BiH and not separately to its Entities or the District of Brcko.
"The written commitment of February 23, 2015, is clearly based on 'the sovereignty, territorial integrity and political independence of Bosnia and Herzegovina'. This was agreed by the Presidency of Bosnia and Herzegovina, signed by all political party leaders and endorsed in the Parliamentary Assembly of Bosnia and Herzegovina.  The parliamentary deputies and the leadership of the SNSD party also agreed to this commitment. Through the written commitment everyone who signed and approved it affirmed that membership of the European Union is a strategic goal of Bosnia and Herzegovina. The European Union reiterates that its bilateral relations are with the state of Bosnia and Herzegovina", EUSR office announced on Monday.
All those reactions were not enough for Dodik and he continued with statements that RS has a right on independence. In an interview for local newspaper in Banja Luka, Dodik said that "it is the right of Republika Srpska to make decisions on its own destiny and that Bosnia and Herzegovina (BiH) can only be a Dayton BiH, not a unitary or a centralist BiH".
"Instead of the OHR and foreigners supporting our wish to maintain the Constitution and the power of the international agreement, they are trying to undermine the Declaration which promotes political rights; it doesn't promote any war rights or violence", Dodik stressed.