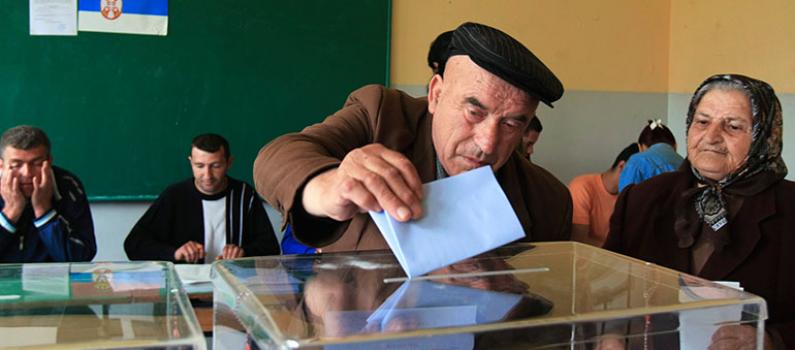 Serbian conservative ruling party and its coalition partners are the relative winners in the elections held in five municipalities on Sunday. The progressives (SNS) led by prime minister and president-elect Aleksandar Vucic have gained the most of the votes in Kosjeric (32 percent), Vrbas (43), Kovin (42) and Odzaci (54.4), while the winner in Zajecar was the local movement "BoskoNicic" with 32 percent.
The analysts suggest that the results indicate certain decrease of the popular support for SNS, particularly comparing its score with Vucic's result in presidential elections held earlier this month. On April 2 Vucic was elected for president with some 55 percent of the votes, a convincing majority of those who voted that enabled him to avoid the run-off.
Centre-left Democratic Party (DS) declared that its coalition scored second in Kosjeric (17.14 percent), and third in Zajecar (16.73) and Vrbas (11.5); in Kovin and Odzaci it took less than 10 percent respectively, 8.59 and 8 percent.
Nevertheless, DS which was the main ruling party from 2008 to 2012, stressed in its press release that "the changes in Serbia start from the local level just like in 1990s", despite the "undemocratic and irregular atmosphere".  DS alluded to 1996 opposition win in local elections, which was the prelude for defeating the authoritarian regime of Slobodan Milosevic in 2000.
DS optimistically looks forward to local elections in Belgrade which are planned for 2018, promising that it will "create a team of capable, courageous and honest people" for the Serbian capital.
At the same time, Socialist Party of Serbia (SPS) led by current foreign minister Ivica Dacic congratulated SNS for its victory and expressed its readiness to "cooperate" in all municipalities.
SPS also thanked all voters who have supported its candidates. "This electoral result represents even stronger motive for taking the responsibility for a social fairer, economically developed and institutionally regulated society", SPS concluded./IBNA