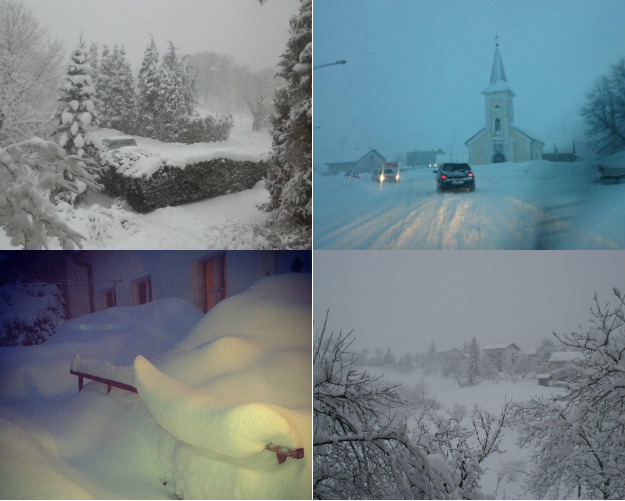 Zagreb, February 6, 2015/ Independent Balkan news Agency
By Marija Avramovic
Due to the failure in the Thermal Plant Zagreb in city part called Savica, early in the morning there was an interruption of heat supply for almost half of people who use this company's utilities in the capital.
An urgent repair of the damage is in progress and complete normalisation of heat supply is expected today late in the afternoon.
The roads in Zagreb have been cleared all morning and according to Deputy Mayor Sandra Švaljek, even with the announced new 40 centimeters of snow, further problems in traffic are not expected.
Last night in Gospic 35 centimeters of new snow fell bringing the overall height so far to 70 centimeters, while in the mountain regions strong wind creates snow loads of more than 1.5 meters. On most of the roads through Lika, traffic is interrupted.
Due to the snow in the mainland, especially in Lika and Gorski Kotar, and because of the storm in the coastal parts, conditions for driving are very bad, and some highways and state roads are completely closed.
From the direction of the mainland to Rijeka and Dalmatia and vice versa there is no free road route for trucks with trailers and semi-trailers.
During the morning and last night in the area off and around Pula blew very strong and stormy bora with hurricane strikes, for which the firefighters had to intervene dozens of  times.
In Pula, the wind blew spasmodically up to a hundred miles per hour, crashing containers, umbrellas and chairs on the terraces of cafes in the city center, bringing down parts of some building's frontispieces.
According to announcements of IstraMet, time will gradually calm down during the day, and in the next few hours the storm will weaken.
Due to the emergency weather situation, for 14 hours all rail traffic sections between Ogulin and Rijeka and Ogulin and Knin have been closed.