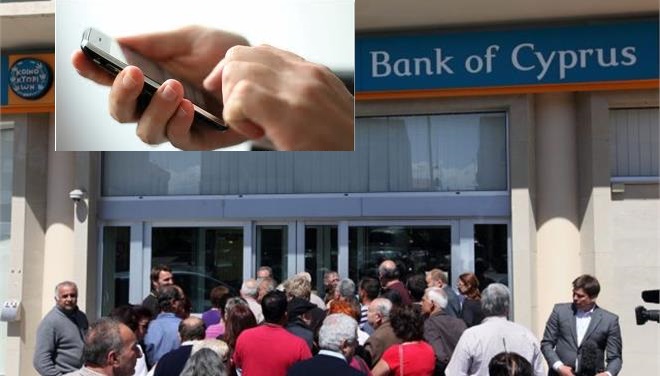 By Kyriacos Kyriacou-Nicosia
An SMS hoax distributed to cell phones saying that a new haircut on deposits is on its way has caused some panic, once again, in Cyprus.  People believed in the content of the message and started withdrawing their money from banks in fear for a second haircut on deposits, after the one implied last year by troika.
The unknown people behind this hoax even involved the name of the Chairman of Cyprus Securities and Exchange Commission Demetra Kalogerou. The hoaxers made people believe that Demetra Kalogirou was warning a friend (Georgia) to quickly take her savings from the bank as a new haircut was decided.  The Chairman of Cyprus Securities and Exchange Commission made an official complain to police.
Investigation
An investigation has been launched in order to bring to justice those responsible for the incidence. Police sources said to IBNA that investigators have already requested data from Cyprus Telecommunications Authority (CyTA) in order to track the hoaxers.
The fake comes two weeks after Chairman of the National Economic Council (NEC) Christoforos Pissarides commented that a rejection of the foreclosures bill would be "disastrous" for the economy and that "a new haircut on deposits may be decided."  More than €60 million of deposits were withdrawn from local banks in a single day, after Pissarides's comments.
"Totally unfounded"
In order to prevent a second chaos, the Central Bank of Cyprus (CBC) announced that Friday's rumors in relation to the viability of the Co-operative sector and the Bank of Cyprus were totally unfounded. The CBS points out that the recapitalization of Bank of Cyprus was successfully completed recently. The Co-operative sector has been restructured and recapitalised without the participation of depositors and according to the adjustment program of Cyprus, there is an additional amount of €1bn for future capital needs, "said the CBC.
"No one plays games with his country"
No one is entitled to play games with the country`s economy, the President of Cyprus Nicos Anastasiades has said on Friday.
While departing from the Presidential Palace, in Nicosia, after his meeting with the newly-appointed UN SG`s Special Adviser for Cyprus Espen Barth Eide, the President was asked to comment about rumors that circulated on Friday in relation to the viability of the Co-operative sector and of the Bank of Cyprus.
Such behavior is "despicable", the President noted, adding that it constitutes a criminal offense, and that it will be dealt as such by the competent authorities.