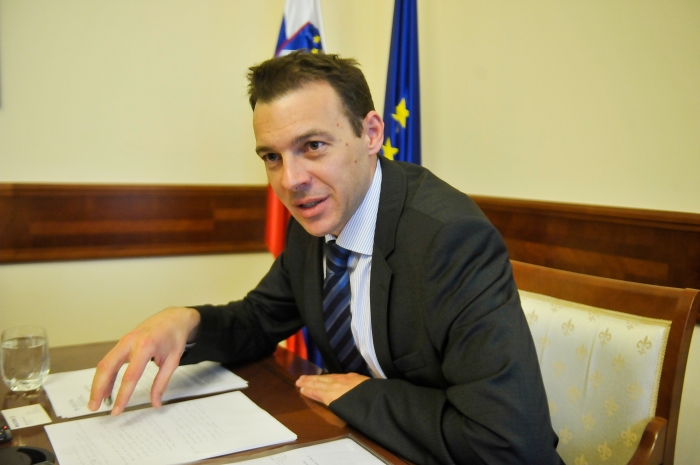 By Christos T. Panagopoulos –
There is no doubt that the double-edged sword of Damocles is nowadays hanging over the Slovenian government of Alenka Bratušek, who needs to find a convenient solution in order to confront the financial crisis, which has been tormenting the country for the last months.
It is within this context, where Minister of Finance, Uroš Čufer, and Governor of Banka Slovenija, Boštjan Jazbec, met several groups of investors at the autumn meeting of the International Monetary Fund (IMF) and the World Bank ahead of a planned issue of new bonds in the first quarter of 2014.
Čufer faces a major challenge in his political career, as he knows that has to solve the financing issue and proceed in all reforms necessary to boost Slovenia's economy. Speaking in Washington DC, on Saturday, he said that "the investors are well informed about the situation in Slovenia, which has improved a lot since the April IMF-World Bank meeting.[…] It is more or less clear we delivered on our promises".
But the problem remains. The European Commission has already asked the country to proceed faster in restructuring its banking system and to begin immediately stress tests.
From his side, Governor Jazbec lamented the delays in bank stress tests that have postponed the entire bank restructuring effort, but he said "this was due to methodological issues and complexity of the tests".
"The problems are normally solvable, but they are delaying the release of the data. It is in everyone's interest that the data are good. Quality and accuracy of data is more important that the time frame", he claimed.
He also told reporters that Slovenia would have to borrow next year in order to roll over debt and finance current liabilities. The only question is whether it can borrow from private investors or would be forced to seek international aid.
"Investors are interesting in the state's role in the economy and the corporate governance problems that got us into trouble. The minister is attempting to convince them the measures are designed to give us access to international financial markets and borrowing at moderate interest rates", he said.
According to the Central Bank of Slovenia, the first transfer of non-performing loans into the "bad bank" is expected in late November.