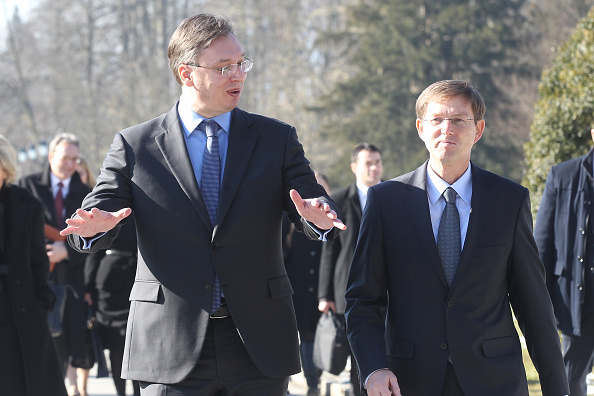 Belgrade, 24 October – The governments of Slovenia and Serbia are meeting in Belgrade in Monday for their third joint session, led by both prime ministers, Miro Cerar and Aleksandar Vučić.
Before the session, Cerar and Vučić will meet for a tete-a-tete, while ministers of both governments will hold separate meetings.
Cerar, who arrived in Serbia on Sunday, is being accompanied by ministers in charge of foreign and interior affairs, defence, finance, economy, agriculture, infrastructure, public administration, and culture.
According to a press release from the Slovenian Government Communication Office (UKOM), the joint government session will look into ways to boost bilateral cooperation in a variety of fields.
The two cabinets will also sign new agreements and review implementation of what had been agreed so far. The governments first met in Serbia in October 2013 and again in Slovenia in February 2015.
After the government session, Cerar is due to meet President Tomislav Nikolić, while both prime ministers are also scheduled to address a Slovenia-Serbia business forum.
Cerar's agenda also includes a courtesy meeting with Archbishop of Belgrade Stanislav Hočevar.
Serbia is 11th among Slovenia's trading partners; bilateral merchandise trade last year amounted to EUR 1.14bn, of which EUR 743m was Slovenia's exports.
Despite a 2% drop compared to 2014, Serbia remains the second largest recipient of Slovenian direct investment at EUR 996m in 2015. Meanwhile, Serbia's FDI in Slovenia increased by 28% to EUR 59m./IBNA
Source: The Slovenia Times