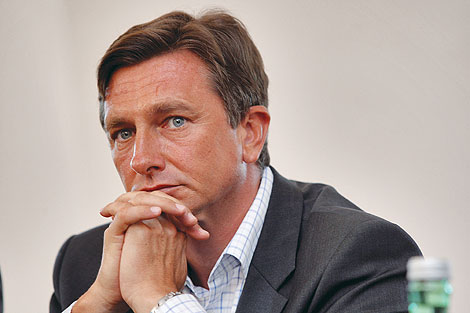 Review Hari Stefanatos
Slovenian President Borut Pahor met with a group of constitutional experts regarding the earliest possible date for the early general elections and stated that July is the earliest possible date.
"It is possible to conclude that the very likely early election is not possible in June when considering constitutional deadlines, but is more likely and possible in July," Pahor said after the meeting with eleven jurists, adding however that there are still  cetrain things that must be determined before a more exact announcement is possible.
The President is faced with the dilemma of conducting the elections during the summer holidays. He stressed that the entire procedure must be understandable and evoke trust, while it needs to be made sure at the same time that the interests of the country and citizens suffer as little as possible.
What will start the clock will be today's plenary session, during which the parliament is going to take note of PM Alenka Bratušek's resignation, after which the individual deputy groups or any 10 MPs together will have a 14-day deadline in order to put forward a candidate.
Legal expert Rajko Pirnat said that talks of rushing to early elections should stop, since it will be very difficult to hold it before the second half of July.
Jurij Toplak on his part said that the date will depend above all on whether a candidate for PM-designate will be put forward in parliament, since according to the Constitution elections can held 40 to 60 days after the parliament is dissolved, adding that "the Constitution and the deadlines that are in the Constitution are above things like the weather or holidays", referring to the Constitutional Court's decision to not allow a referendum to be called for 4 May, a Sunday following the Labour Day holidays.
President Pahor is expected to hold talks with deputy groups tomorrow.
(Source Sloveniatimes)