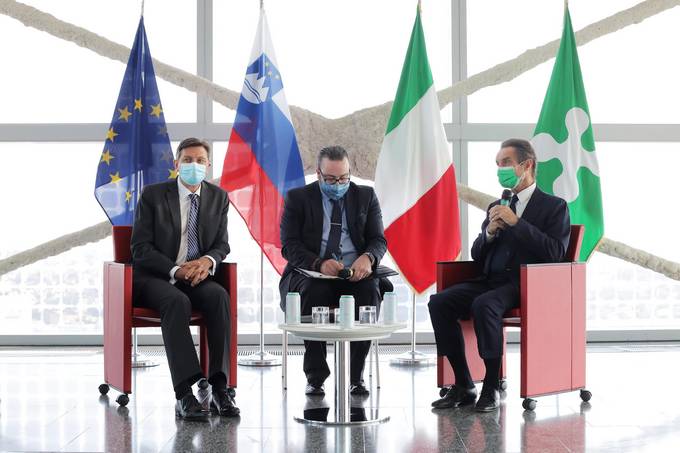 During a working visit to Milan late yesterday afternoon, the President of the Republic of Slovenia Borut Pahor met with Attilio Fontana, President of Lombardy, to discuss cooperation, especially economic, and opportunities for developing and strengthening relations. Letizia Moratti, Vice-President of the Lombardy and Committee on Social Affairs, also attended the meeting. During the conversation, President Pahor expressed his desire to deepen relations between Slovenia and the Lombardy region. He invited the President of the Land of Fontana to visit Slovenia together with a business delegation, and Fontana accepted the invitation.
President Pahor added that relations between the two countries have never been as good as they are now, Italy is one of Slovenia's most important foreign policy partners, and it is especially important to strengthen mutual economic relations with Lombardy, with which Slovenia has the largest share of trade.
Presidents of Slovenia and Lombardy also discussed the experience of dealing with the covid-19 epidemic. Pahor said that he monitored the situation in Italy in the first wave of the epidemic, admired their courage and expressed sympathy for their victims and added that Slovenia had learned a lot from their bitter experience. He expressed the hope that the European funds from the Plan for Recovery and Resilience of the country will bring development and a leap in terms of sustainable development and not just the reconstruction of what was missed.
The Lombardy region is optimistic about the future, which will be helped by preparations for the 2026 Winter Olympics in Italy. Both countries will strengthen excellent relations in the field of culture in 2025, as Slovenian Nova Gorica and Italian Gorizia will then proudly bear the title of European Capital of Culture, which is an outstanding example of cross-border cooperation.
"I am glad that in October we will address the people on the European Square that connects the two Gorizia with the Italian President and friend Mattarella, and inspire them in a common European spirit to live in coexistence and respect," the President announced. He added that Slovenia has a rare privilege of having wonderful relations not only with neighbouring countries but also with all nations and states in general.
"We are ready to improve relations between Slovenia and the Lombardy region. I will be happy if you also have an open heart for cooperation," President Pahor concluded.
Before the conversation, Pahor met with representatives of the Slovenian community in Milan. Representatives of the Association of Slovenes in Milan, the Association of Slovenian Business Club, the Consul General in Milan and a representative of the WTO in Italy took part in the conversation.