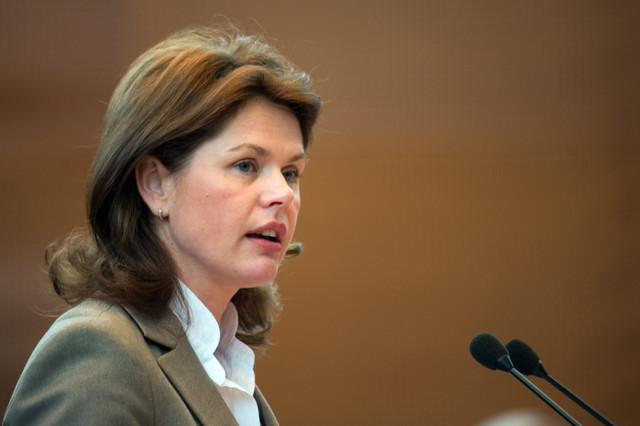 Review by Christos T. Panagopoulos –
Prime Minister, Alenka Bratušek, will be among the EU leaders who will discuss in Brussels on Thursday and Friday the banking union, youth unemployment, digital challenges and refugee deaths in the Mediterranean. No breaking news is expected at the meeting, which is considered a bridge to the December summit.
While the EU is now waiting for the outcome of the German coalition talks, Slovenia is expecting the results of an asset review at eight of its banks, which will show whether the country will need a bailout.
Given that Bratušek stressed during a recent visit of Eurogroup head Jeroen Dijsselbloem that Slovenia would insist that the criteria being used for the bank review in Slovenia also be applied in the review planned across the eurozone, it is expected that she will repeat the message at the summit.
Responding to speculation about whether the Slovenian banks now being subjected to the review will be scrutinised again next year, the ECB explained on Wednesday that market leader NLB as well as the second largest bank, NKBM, and the state-owned SID export and development bank will be reviewed in Slovenia.
The three banks will not be exempted, as the exercise is different, but the review will leverage data obtained from the ongoing stress tests and asset quality reviews, the ECB told the STA.
The review is crucial for the launch of the banking union, which will be among the topics of the summit.
The agenda moreover includes efforts the strengthen the social aspects of the Economic and Monetary Union, preparations for national guarantee schemes for the young, the need to boost the EU's role in the digital world, as well as the deaths of refugees trying to make it to Europe.
Before the summit, Bratušek will attend a meeting of the Alliance of Liberals and Democrats for Europe (ALDE).
Although this will already be her second attendance at the ALDE get-together, Bratušek's party, Positive Slovenia (PS), says it has not yet decided whether to join ALDE or the Progressive Alliance of Socialists and Democrats (S&D).
However, the ALDE meeting will also be a chance for talks with Economic and Monetary Affairs Commissioner Olli Rehn, who is a member of the grouping as well.
Source: Slovenia Times