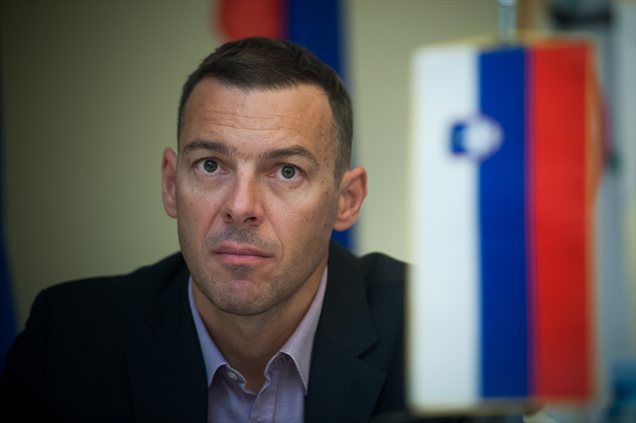 Review by Christos T. Panagopoulos –
Finance Minister Uroš Čufer survived a no-confidence vote early on Thursday, as the coalition closed ranks and voted against the opposition's motion. Only 28 opposition deputies, mostly from the ranks of the Democrats (SDS), voted in favour and 48 were against.
The debate, spanning some 15 hours, saw the opposition accusing Čufer of mismanagement of the controlled winding down of two small private banks and the dismissal of an opposition MP from the board of the Bank Assets Management Company, the bad bank.
Čufer defended the government's decision to order the orderly winding down of Factor banka and Probanka as he responded to opposition arguments that he was selling out public finances.
The minister said the liquidation secured the stability of Slovenia's banking system. Without the measure, the banks could have gone bust, which would have caused a major instability of the financial system, he added.
"I see Probanka and Factor banka as two skeletons which fell into my arms from the cupboard", he told MPs. When he took over in March, nobody was taking about the two banks being a large systemic problem, according to him.
The SDS, which filed the interpellation motion, meanwhile said that the decision to underwrite the capital shortfall of the two banks benefited those who abused the banks.
The SDS also demanded the minister's ousting because of his decision to dismiss SDS deputy Andrej Šircelj from the post of a non-executive director at the Bank Asset Management Corporation (BAMC).
The party says that Šircelj's dismissal was retribution for his "public opposition to the damage caused to tax payers", but Čufer said it was prompted by an opinion from the government legal service and the Corruption Prevention Office that the positions held by Šircelj were incompatible.
Čufer said after the vote that "nothing new was to be expected or discovered" at the session, labelling the session as "parliamentary folklore".
Zvone Černač, who spearheaded the SDS's debate in parliament, said the coalition would learn to regret having defended Čufer.
The SDS motion was endorsed in principle by both other opposition parties, the People's Party (SLS) and the New Slovenia (NSi), but only a handful of their MPs actually voted.
Černač said their absence "was not material, as it is clear that the entire opposition is aware this policy is bad for the country".
Source: Slovenia Times
You may also read:
Slovenian Minister of Economy resigns, Thursday, November 21st 2013