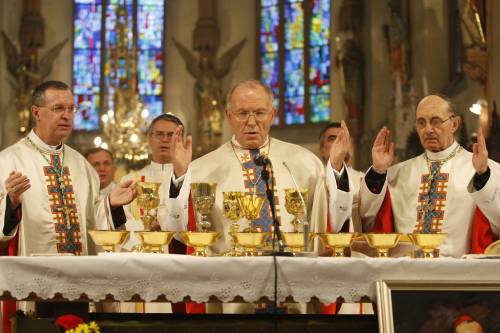 By Christos T. Panagopoulos
The Holy See of the Vatican demanded on Wednesday the immediate resignation of the archbishops of both Ljubljana and Maribor, Anton Stres (photo in the middle) and Marjan Turnšek (photo to the left), amid allegations concerning their involvement in a massive financial scandal affecting the Maribor Archidiocese.
According to Slovenian Mass Media, the Vatican's decision will be published by Apostolic Nuncio, Juliusz Janusz, as early as today, while the daily Delo has, in the meantime, tweeted that Andrej Glavan, the bishop of Novo Mesto, would be appointed in place of Stres as archbishop of Ljubljana.
"Both, but Archbishop Stres in particular, had actively contributed to the financial collapse of the Maribor Archdiocese through their financially risky decisions in the years before the crisis, especially after 2003", the daily Dnevnik reported on Wednesday.
It was the Italian weekly L' Espresso that first broke the news in January 2011 that the Maribor Archdiocese had run up 800 million euros in debts, largely due to botched financial operations by its firm Gospodarstvo rast and financial holdings Zvon Ena and Zvon Dva. All three firms have since entered receivership.
Source: Slovenia Times