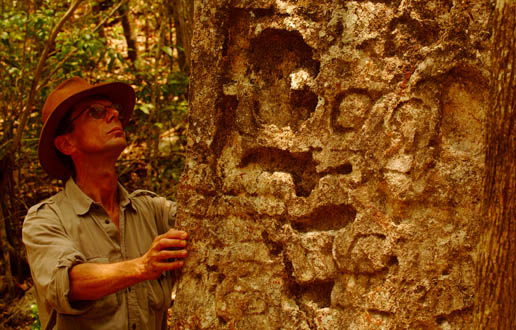 Review by Christos T. Panagopoulos
Slovenian specialists in Mayan archaeology, Ivan Šprajc, and his team have recently discovered the hidden ruins of an ancient Mayan city in a remote jungle in the western Yucatan. Further research on this site could shed light on the Late Classic Maya period, Šprajc told in an interview after returning from Mexico.
According to the Slovenia Times, traces of the lost city were first spotted in aerial images of a vast forested area. Using a stereoscope, the team of researchers was able to observe the images in 3D, enabling them to notice the "fishy" things that protruded out of the landscape, even if covered with tropical forest.
"This was the largest newly-found site on the northern sector of the Calakmul Biosphere Reserve, which is uninhabited and protected as a natural park", Šprajc explained for the STA. It took the archaeologists two and a half months to research the whole site, stretching over an area of 22 hectares.
Their research focused on the elite urban parts of the former Maya city, where they discovered plazas and courts, surrounded by buildings, which had probably been connected to the government or served as residences for the Mayan nobility. "Temples and ball courts, along with decorative stone slabs, called steles, show that the site played an important political role in this area", he said.
Even though the ruins are part of the Mexican archaeological heritage, the expeditions of this kind are usually not co-financed by Mexico. However, the project, worth approximately 27.000 euros, was funded in part by the National Geographic Society, the Austrian company Villas and the Slovenian travel agency, Ars Ionga.
Source: Slovenia Times