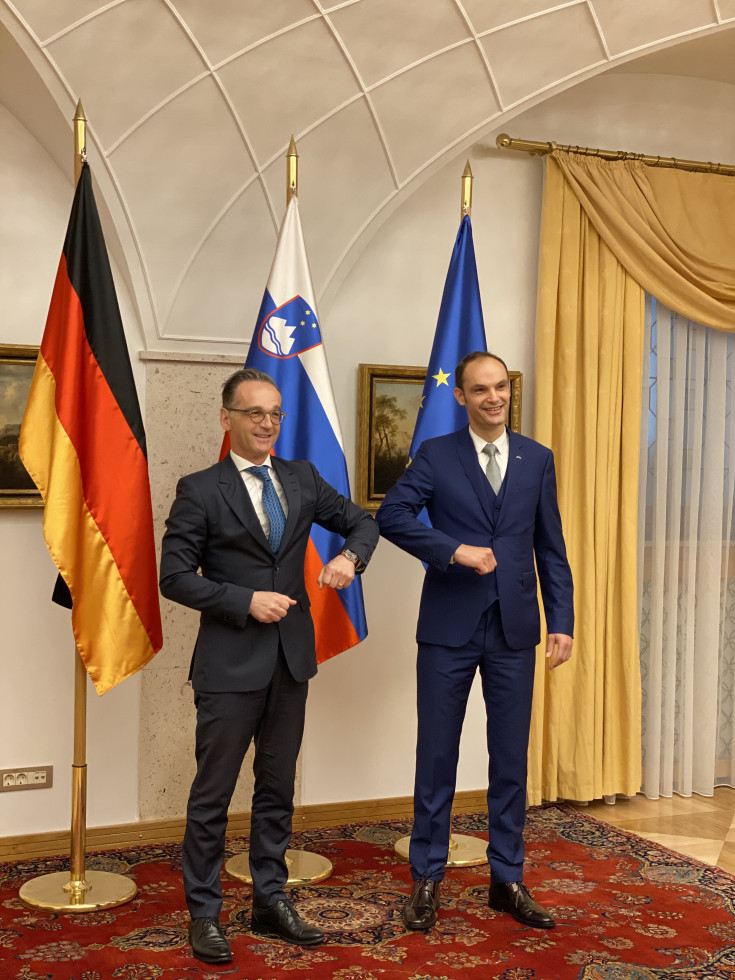 Minister of Foreign Affairs of Slovenia, Anže Logar received today the Minister of Foreign Affairs of Germany, Heiko Maas, on a working visit to Brdo near Kranj. During the visit, the first meeting of the Trio EU presidency of Germany, Portugal and Slovenia was held. Portuguese Foreign Minister Augusto Santos Silva attended the meeting via video conference.
The main topic of discussion of the Trio's foreign ministers was the beginning of the German presidency, which will last from July 1, 2020 to December 31, 2020, and the beginning of the triple presidency of the EU Council, which will end on December 31, 2021 under the Slovenian flag. The approved 18-month Trio program defined the main sectoral priorities of the work of Germany, Portugal and Slovenia, which reflect the goals of the EU Strategic Agenda and include all important aspects related to the pandemic and recovery after the fight against Covid-19.
The coordinated and completed 18-month program was presented to the General Affairs Council on June 16, 2020, and was then approved in writing. The Trio's cooperation took place in a great spirit of partnership.
The Trio's foreign ministers also discussed organizing meetings during the pandemic and agreed to coordinate constantly.
The ministers also exchanged views on the challenges the EU will face during the German presidency: crisis management, multi-year financial framework and recovery instrument, future relations with Great Britain, migration pressures, respect for the rule of law and greater security of the European continent.
The Ministers paid close attention to future challenges and finding solutions, all of which will need to be adapted to the covid-19 pandemic. "This will be a new reality that needs to be taken into account and further cooperation needs to be adjusted", said Slovenian Foreign Minister Anže Logar.
German Foreign Minister Heiko Maas expressed hope that the EU would be able to avoid a second wave of infections. He is convinced that they have gained a lot of experience in recent months, both at the level of individual countries and the EU, and that mutual coordination has improved.
He also hinted that, if necessary, the borders between the countries will be closed again if the epidemiological picture drastically deteriorates somewhere. He pointed out that infectious events can also vary between countries. "If the situation is bad in one EU country or a third country, action needs to be taken", Maas stressed./ibna