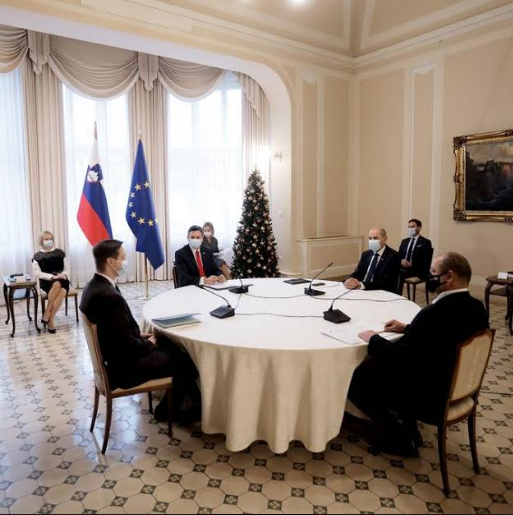 Today, the President of the Republic of Slovenia Borut Pahor organized a traditional meeting between the four presidents in the Presidential Palace: the state, the National Assembly, the government and the National Council.
President of the Republic Borut Pahor, National Assembly President Igor Zorčič, Prime Minister Janez Janša and National Council President Alojz Kovšac attended the meeting. The purpose of the meetings, which became regular and were introduced by President Pahor in 2014, is to exchange views on those state issues that require broad political cooperation and support for a successful solution.
At this year's meeting, the interlocutors discussed, among other things, the fight against the Covid-19 epidemic, the implementation of the decision of the Constitutional Court regarding the elections and preparations for the presidency of the EU Council.
After the meeting, Prime Minister Janez Janša said in a statement for the media that, on the issue of the pandemic, Slovenia is currently in the final third stage in the fight against the virus, and experts' predictions advising the European Commission show that Slovenia is two months ahead, which could be heavier than the previous period. "Despite seeing the light at the end of the tunnel in the form of vaccines already approved or expected to be approved in the coming weeks and months, it remains clear that the vaccination will not completely vanish the virus until late spring," Janša said.
He added that in the coming weeks and months, in addition to vaccination and protection of the most vulnerable groups, Slovenia will have to combine all the measures it introduced this year to avert the new threat which appeared in recent days, referring to the spread of mutated versions of the coronavirus from an alleged epidemic in the UK.
"We have been working intensively on this for the last two days and are also coordinating within the European Commission, and all the information so far confirms the growing risk. That means we are facing a threat that is actually escalating, despite the good information we have about vaccination in recent weeks," he said.
As for the Slovenian presidency of the EU Council, Jansa reminded that his country was intensively involved in the preparation of the program at the very beginning of its mandate. "We are part of a troika with Germany and Portugal. Germany will be concluding its presidency at the end of the year, and Portugal will take up the baton in the new year. At the beginning, we added two priorities to the joint program; drafting an EU strategic plan to combat the pandemic and drafting a plan to combat cyber threats. Since May, when we added this to the program of three, both priorities have not only been adopted, but more than hat they are being worked on intensively.
Preparations for our presidency are not awaited, as these things clearly pose a permanent threat. The European Union, as it turned out at the beginning of the summer, was not prepared for any of them," said Prime Minister Janez Janša. /ibna