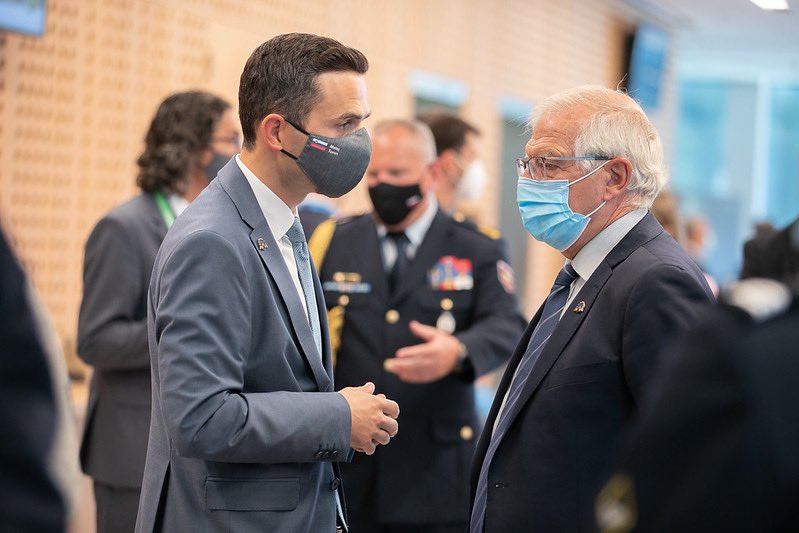 The EU must strengthen its strategic autonomy, the EU's foreign policy chief Josep Borrell said as he spoke to the press after an informal meeting of EU defence ministers at Brdo pri Kranju on Thursday. Slovenian Defence Minister Matej Tonin said political will would be needed to address this issue.
Almost all member states agree "we have to strengthen our ability to act independently when and where necessary", said the EU's high representative for foreign affairs and security policy. "We have armies, we have resources, the problem is harmonisation and the will to mobilise these resources."
Afghanistan is a good example coming at the right time to mobilise the will of member states and to realize that there is no other way to face the new situation than being able to act on our own.
"Afghanistan showed that the shortcomings in our strategic autonomy have their price. The only way forward is to join forces and strengthen not only our capabilities but also our will to act," said Borrell.
This means raising the level of preparedness within the common military training but also the establishment of new tools such as a rapid reaction force. Borrell admitted there was no full consensus among the member states on the force yet, but this was not that important as only a discussion was held at today's meeting, while a decision would be taken in November.
The idea about the European rapid reaction force, which could count around 5,000 soldiers, is an important segment of the Strategic Compass, a key process to reach a higher level of Europe's strategic autonomy, according to Borrell.
Minister Tonin stressed that the EU had its own defence fund to address this issue. "We have the money, and if we have a political will to build in the coming years these urgent capabilities for autonomous action, including in very demanding areas, then we have definitely taken a step forward."
Tonin saw major progress at today's meeting as individual countries announced to present their proposals on how to change the existing mechanism to enable faster political decision-making and faster intervention.
"It's definitely a step forward that member states will make a concrete proposal, and if it is acceptable to all members, we have a concrete solution," he said.
Afghanistan was the main topic as the ministers discussed the EU's operative activities. They stressed that evacuation of people from the country had not yet been completed and that support in diplomatic, humanitarian and development areas needed to continue, according to a press release from the Slovenian Defence Ministry.