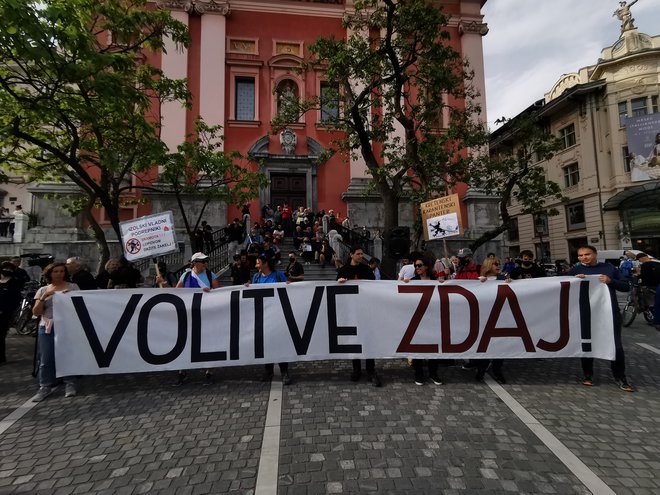 Slovenian capital Ljubljana Prešern Square and nearby streets were crowded on Friday afternoon with several thousand citizens who pretested against PM Janez Janša government and demanded snap elections. Organizers unofficially estimated that about 40 000 protesters gathered in the protest.
Many of them were carrying banners with the inscription "Predčasne volitve zdaj" or "Snap elections now". Some of them were carried the big Janez Janša doll with the text "Slovenian Patient". All the speakers on the Prešern Square called the resignation of the government because "it is not people's government".
After gathering on Prešern Square, mass went to Republic Square where the main part of the event has happened. The increased presence of police is visible on the streets and the Parliament building, including about half of Republic Square, was protected with the fence. More police officers than usual are noticed in the front of the government building.
"Death to fascism! Death to Janšism!" was the most repeated moto during the protest walk through Ljubljana. One of the organizers, Jaša Jenull, called police to close several streets to enable a large number of citizens to gather.
With special excitement was welcomed the news that the ruling coalition failed to remove parliament speaker Igor Zorčič from the post. "They have no majority!" shouted Jenull supported by protesters.
"We are here because it must be said that we can no longer assert workers' rights behind the negotiating tables," said Lidija Jerkič. "The authority does not hear when we draw attention to the dialogue. The authority hears and sees only itself." She also warned that "sooner or later, sooner or later" there will be another government, but the damage this will do – will remain, and will be paid by all citizens.
Protests in Slovenia capital Ljubljana begun more than a year ago with "Friday gatherings" of bicyclists who drove through the city demanding changes. They are supported by trade unions, academics, opposition parties and more and more citizens. In several cases, gatherings were violently interrupted by police. The last case of unrest was seven days ago when the protest was joined by Palestinian supporters, demonstrated against a government decision to fly the Israel flag on the building./ibna